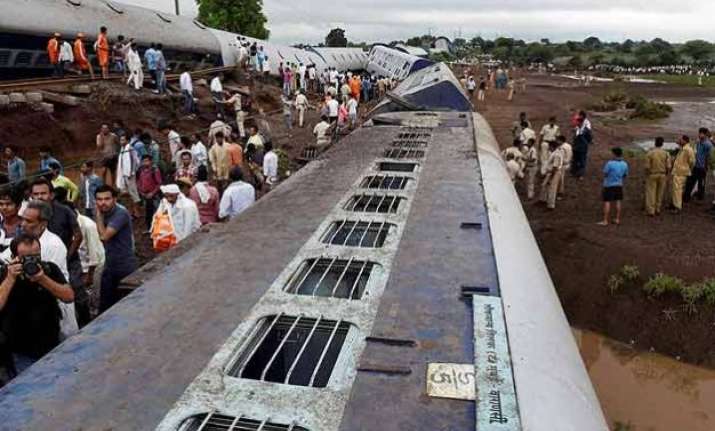 New Delhi:  The 500 metre rail track which caved in between Itarsi and Khandwa in Madhya Pradesh where two express trains derailed was not among the vulnerable sections identified by the Railways during monsoon, a top Railway official said today.
Railways undertake pre-monsoon preparation every year on vulnerable section as precautionary measure and the derailment spot was not among those identified sections, Chairman Railway Board (CRB) A K Mital said here.
Twenty-nine people were killed as two express trains derailed on the flooded tracks in the Itarsi-Khandwa section in Harda district of Madhya Pradesh last night.
Blaming the sudden surge of water as possible cause of the derailment, Mital said "One cannot rule out natural calamity and the flash flood caused extensive damage to the track which resulted in the derailment. The track was otherwise alright and two trains crossed the track just eight minutes before the incident."
Railways have ordered an inquiry into the incident to ascertain the real cause of the twin mishap. Railway Safety Commissioner (central region) will conduct the probe.
He said there were reports of overflowing of a nearby dams but it will be known only after the submission of the inquiry report.
Ruling out any defect in the bridge, Mital said there was regular patrolling on the section and no train is allowed to cross defective bridge.
Minister of State for Railway Manoj Sinha and Member Engineering VK Gupta had rushed to the site to have a first hand knowledge of the incident.
Whether the typical soil of the area played a role in breach of tracks, Mital said black cotton soil of the area was strengthened before laying the track as a standard procedure for rail laying process.
CRB also praised the loco drivers for stopping the trains after witnessing flash flood. "Both the drivers put brake and trains stopped. Otherwise casualty could have been more," he said.
However, railways still maintain that there were 12 deaths in the twin mishap. "We are aware of recovery of more bodies. But these were found away from the mishap site and they could be swept away from nearby villages in the flood."
Services of more than 50 trains were affected due to the mishap as many were diverted and short-terminated. It will take some days to restore the 500-metre long rail track in the Itarsi-Khandwa section.