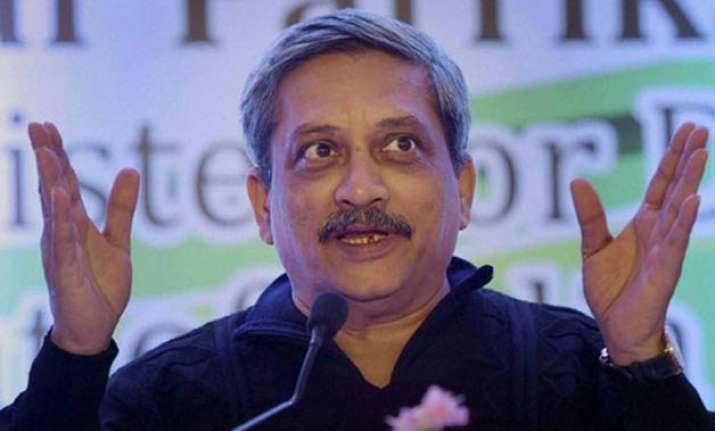 Panaji: A local court on Wednesday issued a warrant to search Defence Minister Manohar Parrikar's official residence in Delhi to trace former Goa minister Francisco 'Miccky' Pacheco who is reported to be absconding for a fortnight since his conviction in a 2006 assault case.
The Judicial Magistrate First Class, Bosco Roberts, ordered that 10, Akbar Road residence of Parrikar be searched even as it extended the non-bailable arrest warrant against Pacheco returnable on Monday.
"The order does not mention name of Parrikar but the address is that of his," said social activist and lawyer Aires Rodrigues who had petitioned the court against delay by police in tracking down Pacheco.
The order came after Rodrigues submitted to the court that there was "information" that Pacheco was "hiding" at 10 Akbar Road.
Goa chief minister Laxmikant Parsekar said they will challenge the court order.
"We will challenge the court order which has issued a warrant to search residence of Parrikar," he said adding the opinion of the Advocate General has been sought on this issue.
The court also rejected the plea of Colva police to issue a proclamation against Pacheco and instead issued a fresh warrant of arrest returnable on April 27.
Opposing the police's plea for proclamation, Rodrigues argued that if the court initiated the process of proclamation, Pacheco would get a breather as the court has to give him 30 days notice to appear before it, in terms of section 82 of the CrPc.
Observing that harbouring an offender is a cognisable offence under section 216 of IPC, Rodrigues alleged the prosecution and police are colluding with Pacheco and instead of diligently executing the arrest warrant they have in connivance and collusion been shielding Pacheco in total disrespect and contempt of the court.
The Margao JMFC had issued a warrant of arrest against Pacheco, chief of Goa Vikas Party, a partner in the BJP-led government in the state, on April 9 as he has to undergo a six-month sentence for assaulting a junior engineer of the Electricity Department in 2006.
The warrant was later extended by another five days, which ended on Wednesday.
Colva police inspector Uttam Raut Desai in his report to the court on Wednesday stated that despite their efforts, police have not been able to apprehend Pacheco.
The former Rural Development Agency Minister had filed a review petition in the apex court against his conviction with the apex court, which is yet to be admitted.