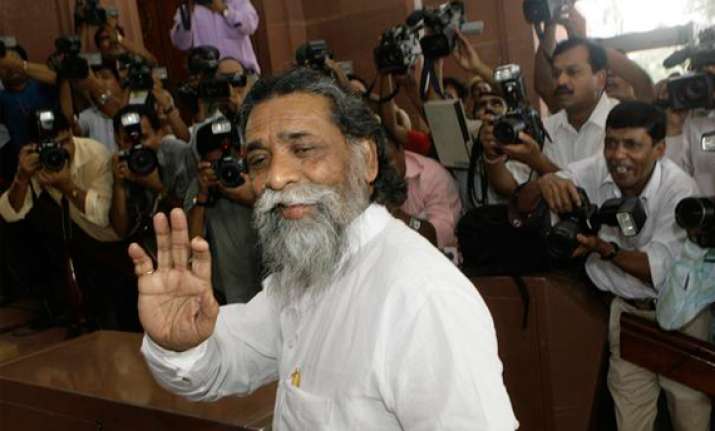 Ranchi, July 8: The Jharkhand Mukti Morcha on Sunday  crawled closer to a simple majority after getting letters of support from four MLAs and the Marxist Coordination Committee (MCC) hinting support in JMM's endeavour to forge a multiple alliance to form the 9th government.
"Independent MLAs Bidesh Singh, Harinarain Rai and Chamra Linda have given their letters of support, besides me," Jharkhand Janadhikar Manch (JJM) MLA Bandhu Tirkey said here.
While Singh confirmed his calling on the JMM leadership to hand over the letter, the mobile phones of Linda and Rai were switched off.
"I think the new alliance is likely to stake claim on July 9 or 10," claimed Tirkey.
The lone MCC MLA Arup Chatterjee said JMM leader Hemant Soren has telephoned him seeking his support.
"My party leaders will meet tonight in Hazaribagh, and if they agree to support the ensuing alliance, then we will meet the JMM leadership tomorrow to discuss some issues. If those issues are accepted, we will lend support to it," Chatterjee told PTI.
Chaterjee said Soren has telephoned him seeking his support, "and I am now establishing contact with our party leaders to seek their advice before taking any decision".
CPI (ML-Liberation) MLA Vinod Kumar Singh said, "I will sit in the opposition".
The Congress has already announced its support while the RJD's Legislature Party leader Annapurna Devi said all the five party MLAs have handed over the letter of support to the JMM during the day.
It is not yet clear whether former chief minister Madhu Koda's MLA wife Gita Koda and Jharkhand Party (Ekka) MLA Enos Ekka handed over their letters or not.
Apparently expecting the support from Congress, RJD and all these MLAs, JMM leader Hemant Soren yesterday said he has the support of more than 41 MLAs.
One of the deputy chief ministers in the erstwhile BJP-led government, Hemant Soren is tipped as the chief minister.
The six-month term of the President's rule ends on July 18. The central rule was imposed on Jan 18.
JMM and Congress, which have 18 and 13 MLAs respectively, need the support of 11 more legislators to form a government in the 82-member state assembly.
RJD has 5 MLAs in the House. CPI-ML (L), Marxist Coordination Party, Jharkhand Party (Ekka), Jharkhand Janadhikar Manch and Jai Bharat Samta Party have one member each besides an Independent.