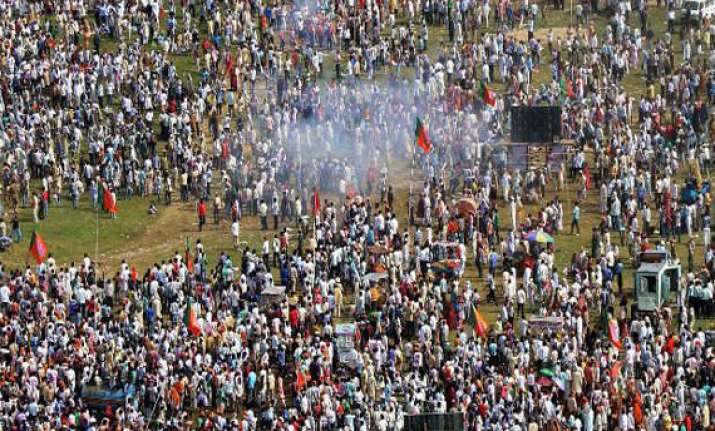 Patna: Intelligence inputs by central agencies about the threat to Narendra Modi during his visit to Patna, which witnessed serial blasts yesterday, was "generic and routine", Bihar Director General of Police Abhayanand said yesterday.
"Such letters are generic and rountine...There were no specific inputs about security threat to Narendra Modi in particular and the rally in general," he told reporters about the intelligence inputs given by central agencies to the state government dated October 23.
There was no specific input indicating any threat to security of the VVIPs during their visit to Patna and security arrangements for Modi, other VVIPs and rally venue were made as per book, he said.
Left Wing Extremism (LWE), law and order and Indian Mujahideen issues were factored in before making standard arrangements for them.
A memorandum was prepared in consultation with the 20-member Gujarat police comprising senior officials about putting in place security measures for the VVIPs and the Hunkar Rally venue, Abhayanand said.
The Gujarat police team had also inspected the venue of the rally and arrived ahead of the VVIPs visit to take care of their security, which the state police and the Gujarat police had put in place in consultation with each other.
Additional measures like checking at the venue was done and sufficient forces, including senior police officials, deployed which was reported by the media too, Abhayanand said.
On BJP leader Sushil Kumar Modi's allegation that Advance Security Liaisoning (ASL) was not done for Modi in view of the high security threat to him, the Bihar DGP said there was no need for it as per the report on specific protectee.
The security drills for Modi and other VVIPs were carried out as per protection parameters set for VVIPs in Z-Plus security or NSG protectees and all required measures were completely followed for their security.
Whatever was practically possible was done, he said.