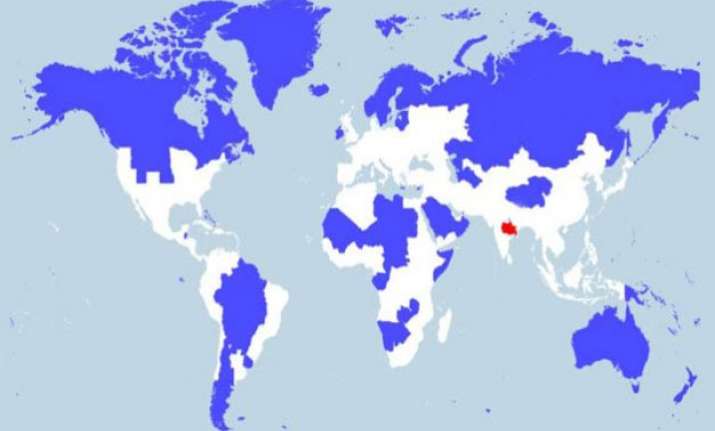 New Delhi: India is full of people. With a population of 1.252 billion, we stand at No. 2 among the world's most populous countries.
Often, facts about India's burgeoning population amaze us and left us speechless. Now, the recent one will surely sweep you off your feet.
Believe it or not, it's true. The four prominent states of India i.e. Bihar, Uttar Pradesh, Jharkhand and West Bengal encompass 5% of the world population.
Look at the picture: There are just as many people living in red area (India) as there are living in all the blue areas combined.
And this blue region not only covers inhabited deserts and tundras but some prominent and powerful countries such as Australia, Canada, Ireland and Saudi Arabia.
Taking about the red area, it covers Bihar, Uttar Pradesh, Jharkhand and West Bengal.
Here are the population details of these Indian states:
Uttar Pradesh 199,581,477
Bihar               99,000,000
Jharkhand       32,000,000
West Bengal   90, 320,000
Having highly populated states is not a problem for a country until and unless it possesses the required infrastructure and resources to support the population.
In India's case, human resource is certainly the major factor behind bringing maximum business to the country.
But, unfortunately, the country remains unsuccessful in feeding even two course meal to a large section of population.
Picture credit: Max Galka.