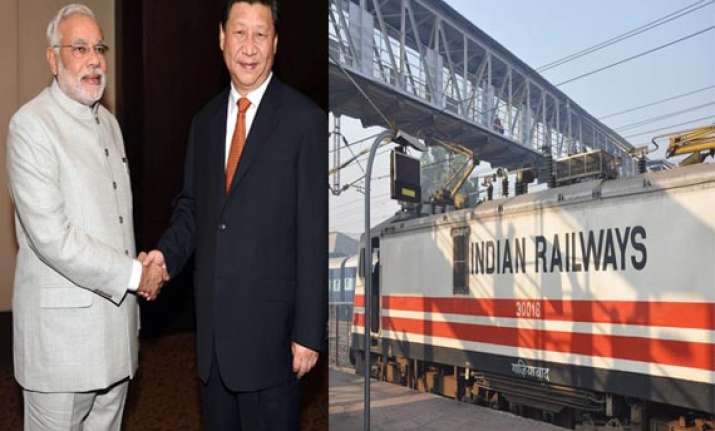 Mumbai: India and China are likely to sign an MoU for cooperation in Railways during the forthcoming visit of Chinese President Xi Jinping in September, a senior Chinese diplomat said here.
"In terms of cooperation in the construction and overhaul of the existing railway system across India, China had sent an advance team here, which held a first round of consultations.  And then an MoU is very much likely (to be signed) when the Chinese President comes to India in September," Consul General of China in Mumbai Liu Youfa told PTI on the sidelines of a CII event on the weekend here.
Last week, a 22-member high-powered Chinese delegation headed by deputy administrator of National Railway Administration Zheng Jian visited India and held talks with the top brass of Central Railway in Mumbai.  
During the meeting, the two sides discussed cooperation in raising speed of trains on existing routes, training of heavy haul transportation and station development under strategic economic dialogue, among other issues.  
"India can take China as a testing ground. China has gone through the pain of overhauling the redundant railway system. China started trains which were running at 90 km per hour and today it has built up a whole national network of bullet trains which run at a speed of 300 km per hour. So, China could be the place for India to seek reference from," Youfa said.
The two countries can also form a strategic plan on how to proceed with cooperation in overhauling the existing railway system across India and to build a fast train, he said.
Referring to the recent endorsement of setting up a BRICS bank, which will be headquartered in Shanghai and headed by India for the next six years, the Chinese diplomat said that funding for these projects can be availed from various financial institutions.
"We could use the development bank of BRICS, the World Bank and many other international financial institutions to solicit funding for such projects," Youfa said.  
Once the MoU is in place, China will definitely be able to provide Indian counterparts with very competitive equipment and technology in the managerial know-how, he said.  
The maiden budget of the Narendra Modi-led NDA government has proposed introduction of bullet trains starting off with the Mumbai-Ahmedabad sector and an ambitious plan to have a Diamond Quadrilateral Network of high-speed rail connecting major metros and growth centres, besides setting up world-class stations among others.
The Rail Budget also talked about efforts to increase the speed of trains in select sectors up to 200 km per hour and it has identified nine sectors for this purpose, that include the prestigious Delhi-Agra rail line and the busy Delhi-Chandigarh and Mumbai-Ahmedabad sectors.
Besides, the speed of trains is to be increased to 160-200 km in the Delhi-Kanpur, Nagpur-Bilaspur, Mysore-Bangalore-Chennai, Mumbai-Goa, Chennai-Hyderabad and Nagpur-Secunderabad sectors.