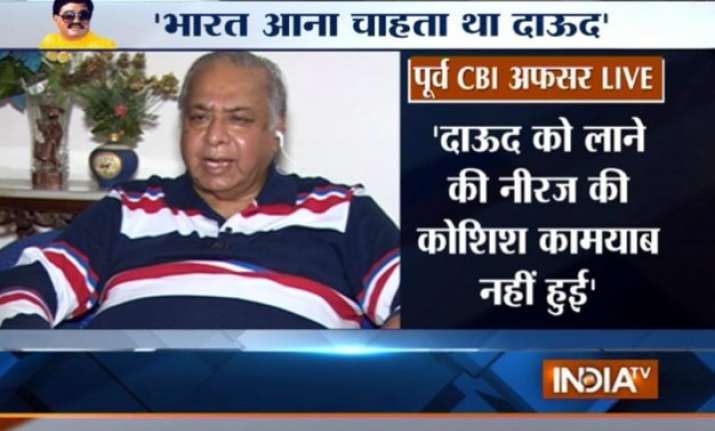 New Delhi: Former Joint Director of CBI Shantanu Sen has disclosed that Neeraj Kumar, former CBI officer, was indeed in touch with underworld don Dawood Ibrahim.
In an exclusive interview with India TV, Shantanu Sen revealed that Dawood Ibrahim wanted to return to India and face trial in 1993 Mumbai serial blast case but was insisting on assurance for his acquital in all other cases pending against him.
He said the CBI turned down his request and directed Neeraj Kumar, who as CBI DIG was handling the Mumbai serial bomb blast case, to try and bring him to India.
Sen said, "Dawood was ready to face trials in the blasts case as he was confident of being innocent but was asking for acquittal in all other cases pending against him.But CBI was not ready to negotiate with an accused on any condition. We were of the instead he should be caught rather than giving him assurance to any criminal."
Veteran lawyer Ram Jethmalani had also said that after the blasts, India's most wanted man had called him up and wanted to quit.
Sen also claimed that they had proved the fact that Dawood was under Pakistan's govt shelter but India wanted trials in all the cases against him.
"Dawood wanted to prove himself innocent in the case so that he can be a 'messiah' among the muslims" he added.
"We provided all the evidences to the Supreme Court of India that the plan was made by Pakistan's ISI with the help of Dawood who was then living in Karachi. The ISI was too protective for D and it does not wanted him to be present in India out of the fear of being exposed," former CBI officer said.
When asked about whether India can arrest Dawood from Pakistan itself, Sen replied, "CBI works legally. This is not the work that our agency do. There are other government agencies like RAW, IB who can do this."
Sen who retired from his service in 1996, believes that Dawood will be caught one day and will face all the trials.
Shantanu Sen said that Neeraj Kumar had succeeded in briging Yakub Memon to India because he wanted to surrender without any conditions, instead he came back with his whole family but kumar failed to bring back Dawood Ibrahim.
Earlier, Hindustan Times had quoted  Neeraj Kumar as saying that Underworld kingpin Dawood Ibrahim had offered to surrender on terms of his safety as he feared his rival gangs will kill him in India.
Neeraj Kumar led the CBI probe into the 13 blasts that rocked Mumbai on March 12, 1993, leaving 257 people dead and more than 700 injured.
Neeraj Kumar,however, later denied giving any such  interview to Hindustan times.
"I never gave an interview to HT. It was an informal chat with the correspondent who is known to me for long. He has given the chat a slant which is both incorrect and unfortunate. At no stage was D willing to surrender nor did anyone stop him from surrendering," he said.