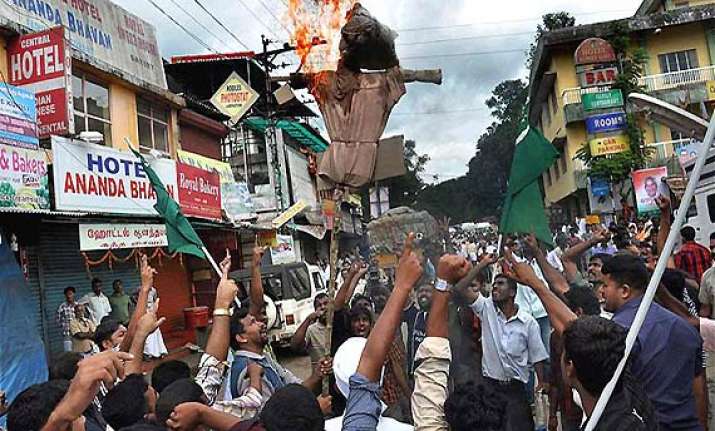 Chennai/Theni, Dec 12: Tension prevailed today on Tamil Nadu's borders with Kerala over the Mullaperiyar dam issue, with police baton charging over 4,000 people who tried to forcibly enter Kerala even as key UPA ally DMK attacked the Centre, asking it to "at least now" take a timely decision to resolve the escalating row between the two states. 

The protesters from 25 villages demanding increasing the dam level to 142 feet as per orders of the Supreme Court tried to break the police cordon and push their way into Kerala, leading to a baton charge, police said. 

At Cumbum in Tamil Nadu, three small factories owned by Keralites were set ablaze, police said. Additional DGP George and IGP Rajeshdass were camping in the area to monitor the situation.

With both states seeking to turn the heat on each other and mount pressure on the Centre, people from different villages in border areas of Tamil Nadu blocked vehicular traffic on the Cumbum-Mettu road to Kerala for the third day. 

Tension in Kerala's border town of Kumily, however, eased but the area is still under tight security as agitators gathered on the Tamil Nadu side, protesting Kerala's demand for a new dam in place of the 116-year-old structure. 

After remaining shut for the past two days, shops in the town opened but inter-state traffic continued to be blocked on both sides for the third consecutive day, police said. 

In Tamil Nadu, DMK stepped up its pressure with party workers staging a day long fast, demanding that the Centre prevail upon Kerala to accept the Supreme Court verdict to raise the water level in the dam from 136 feet to 142 feet.

Taking potshots at the UPA government at the Centre, of which his party is a key constituent, DMK chief M Karunanidhi, said the Centre "known for taking belated decisions" should act timely on the Mullaperiyar issue at least now. 

"The Centre, known for taking belated decisions on all issues, should at least now take a timely decision as any delay will lead to disastrous consequences," he told party workers who were on a day-long fast in Chennai. 

He came down heavily on some people in Kerala whipping up a fear psychosis among its people that the dam might burst. 

Some politicians in Kerala with an eye on the coming bypolls to Kerala assembly are spreading falsehood that the dam was weak.

The Mullaperiyar dam row has sparked fresh tension between Tamil Nadu and Kerala over building a new dam in place of the existing one. Kerala insists a new dam is the only solution, but Tamil Nadu maintains it is as good and safe as a new one.

The increase in tension had led to attacks on Tamils and Keralites in some parts on both sides of the state borders.  Meanwhile, Kerala Chief Minister Oommen Chandy urged agitators not to fall prey to designs of vested interests to exploit the situation to whip up narrow parochial sentiments.

"It is important for everybody to exercise restraint so that the atmosphere is not vitiated. Certain vested interests are making conscious efforts to exploit the situation," he said at Pathanamthitta.