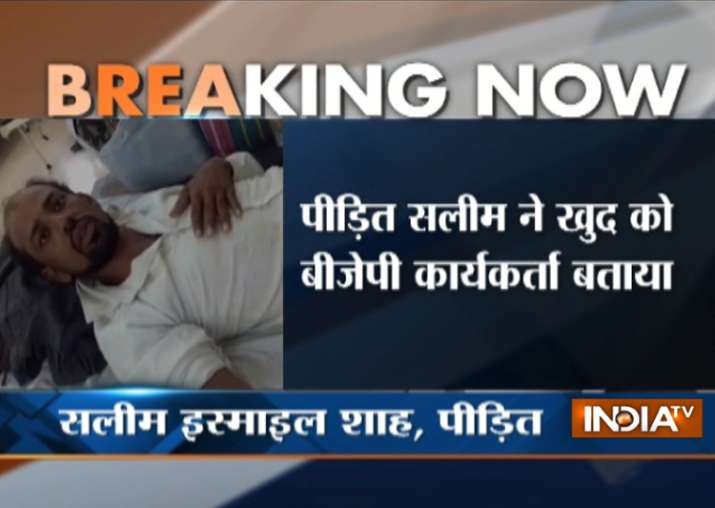 In yet another shocking incident of violence over beef rumours, a 40-year-old man was brutally beaten up by a group of people in Nagpur. According to reports, four persons assaulted the victim, identified as Salim Ismail Shah, over suspicion that he was carrying 15 kg beef.
The incident took place at Jalalkheda, about 35 km from Nagpur on Wednesday when Salim was on his motorcycle from Amner village to Katol. Reports say that he was chased by the gang who later beat him up, accusing him of carrying beef. 
As soon as police learnt about the incident, they rushed to the rescue of Salim and admitted him to a hospital where he was given medical aid. Jalalkheda Police Inspector Vijaykumar Tiwari said that Salim was discharged after doctors declared him out of danger. 
Meanwhile, the victim has claimed that he is a BJP workers and has been associated with the saffron outfit for the last 12 years. "I am general secretary of BJP's Minority Morcha (Front)," he said. 
Police later arrested all four attackers who have been identified as Moreshwar Tandulkar, Ashwin Uike, Janardan Chaudhary and Rameshwar Taywade. Tandulkar is tehsil unit chief of Prahar Sanghatan, an organisation headed by Bacchu Kadu, an independent MLA from Achalpur (Amravati).
The victim's relative said that Salim was carrying mutton with him and that the meat was not of cow. "He was brutally attacked by 6-7 people. He was carrying mutton, not beef. He had gone to market… there was some community programme and he was carrying it (mutton) for the event," the relative said. 
Police said that they have sent the meat sample to a forensic laboratory to ascertain whether it was beef or not.
The incident comes in the backdrop of a series of violent activities in different parts of the country in which many people, mostly belonging to the minority community, being attacked on suspicions of carrying beef.
Last month, a Muslim youth was beaten to death on a moving train be a group near Delhi over suspicion that he along with his friends were consuming beef. 
Cows, considered sacred by Hindus, have been at the centre of debate in the country for a long time. India, being a union of states has different laws for cow and cattle slaughter in different states. While some states have completely banned slaughter of cattle including bulls, bullocks and buffaloes, some haven't even banned cow slaughter.