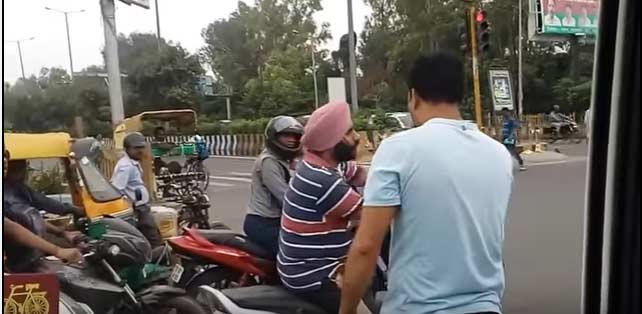 A video that brings to the fore the stunning disregard for the traffic rules and the rampant VIP culture in India has gone viral on social media.
In the video, a man, who appears to come out of his SUV which bears the flag of the Samajwadi Party on its bonnet, can be seen arguing with a Sikh man on a scooter at a red light. 
The man on the scooter was asked not to obstruct his (VIP) path as their girl has to go to school. However, he told them to wait till the light goes green. The VIP men can then be seen threatening the scooter rider.
In the midst of this, the daughter of the VIP also gets down from the car and sees the whole incident being captured on camera and asks her father to intervene.
However, the driver of the whistleblower swiftly took the car away.
According to the post along with the video posted by xxxxxx on Facebook, the incident occurred at 8 am on August 24 in Sector 57 of Noida. 
Here is what he wrote: 
So this VIP guy was in hurry that he got out from his car (car with VIP horns/hooters)
And started misbehaving with the Sardarji who didn't give him way because it was Red light on the traffic signal.
His daughter carried similar attitude and his father then tried to snatch my cellphone.Thanks to my cab driver that he took the car off that place.
Please share this video and make him famous.
Location: sector 57
Date : 24 August 2016
Time: 8:00 am
(India TV is not responsible for the authenticity of the video)