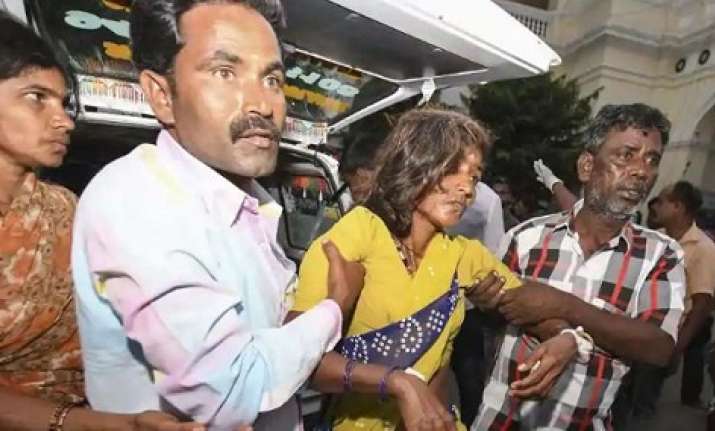 Four people, including a pontiff, admitted to have poisoned the 'prasad' at a village temple in Karnataka on December 14, that claimed lives of 15 people.
According to district Superintendent of Police D.S. Meena, the 52-year-old pontiff (Immadi Mahadeva Swami) and three trustees, who manage the Maramma temple at Sulvadi village in Hanur taluk of Chamarajanagar district, admitted to mixing the food (vegetable rice) with an insecticide before it was served to devotees.
All the four accused were sent to 4-day police custody after police arrested them under various sections of the Indian Penal Code (IPC) at Hanur on Tuesday.
The other three accused are trustees Madesha (46), his wife Ambika (35) and Doddaiah Thambadi.
"If convicted, the accused face death sentence or life imprisonment as it is one of the rarest cases in which the custodians of a temple have deliberately mixed poison in a sacred offering to the deity (Hindu goddess Maramma), which led to the death of 15 innocent devotees," hinted Meena.
The victims included 9 men and 6 women. While 8 of them died on the same day (December 14), the remaining 7 succumbed to the poisonous food since then till Wednesday.
"Of the 90 devotees who were admitted to state-run and private hospitals, 49 are still under treatment, while 41 were discharged till Thursday," said Meena.
Preliminary investigation into the heinous crime revealed that the pontiff allegedly wanted to take revenge against the rival trustees who took over the temple management following a dispute on building a turret over the sanctum sanitorium.
"To discredit and humiliate his rival trustee (Shivacharya), the swami plotted the crime with the connivance of the other three accused, as they both were involved in controlling the temple that draws thousands of devotees and gets offerings in cash worth lakhs of rupees," added Meena.
The Rampura police have sealed the temple's kitchen and the store room for investigation but allowed the priests and devotees to enter the sanctum where the deity is placed.
(With IANS inputs)