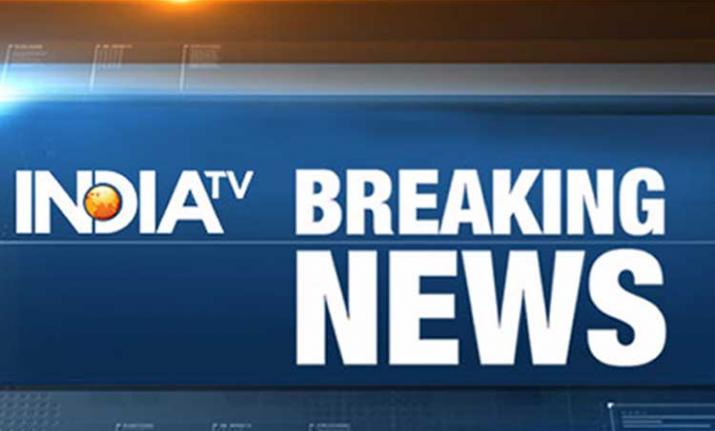 Daily dose of news plays very important role in our daily life. For some people, the morning is incomplete without knowing about what's happening across the world. Some digital-savvy people have a habit of consuming news even when they are travelling or in their free time. In today's world, where people rely on news websites for everything that's happening around, IndiaTV News provides you all breaking news, latest news, breaking story videos, Live TV and top shows of IndiaTV, country's leading news channel on a single platform to ensure you don't miss anything important.
Internet, Twitter, Facebook are buzzing with breaking news and news alerts from India and rest of the world. You can find here the LIVE COVERAGE of all breaking news alerts and latest news updates on just one page. IndiaTV Digital covers all top news as and when it happens and ensures its readers don't miss anything important.
Breaking News, Latest Updates of December 1:
4:55 pm: Real estate builders Nirmal Singh, Surpreet Singh and Vidhur Bhardwaj arrested on charges of cheating & irregularities involved in Lotus 300 project in Noida, have been remanded to 3-days police custody
4:50 pm: Supreme Court imposes a cost of Rs 50,000 each on some State governments including Rajasthan, Uttar Pradesh, Maharashtra, Karnataka, Odisha, Assam and Goa for not cooperating with the Centre in filling up vacancies in Forensic Science Laboratories (FSL)
4:43 pm: Sushma Swaraj: Rahul Gandhi said PM doesn't know meaning of being a Hindu. He said that because he&Congress are confused about his religion& caste. For yrs, party presented him as secualr leader but near polls when they realised that Hindus are in majority,they created this image
4:15 pm: United States President Donald Trump, who is on an official trip to Argentina to attend the G20 summit, reaffirmed that he is committed to holding a summit with North Korean leader Kim Jong-un early next year
3:45 pm: An investigation has been initiated by Fox and the producers of the television series 'Cosmos' after multiple sexual misconduct allegations were levelled against the show's host, Neil deGrasse Tyson
3:15 pm: Three terrorists, two policemen were killed in firing near Chinese Consulate in Karachi's Clifton area in Pakistan on November 23.
2:41 PM: Additional DCP Delhi Police: Karan Santa, a 45-year-old farmer from Maharashtra's Kolhapur district, has died after falling off the 3rd third floor of Ambedkar Bhawan in Delhi's Paharganj, earlier today. Investigation underway.
2:32 PM: ADG (Law & Order), Uttarakhand on Amritsar blast: Punjab police had worked out the matter & stated that anti-national elements want to revive terrorism in Punjab. We're alert in Uttarakhand too. Although people here are wise & we had held public meetings with them we are alert.
1:57 PM: Andhra Pradesh CM N Chandrababu Naidu in Alkapur, Hyderabad: I may enter national politics but won't enter Telangana politics. I'm not greedy for power. I am not thinking of becoming the Prime Minister. My aim is to protect the democracy which is in danger.
1:55 PM: PL Punia, Congress after a meeting with EC: As voting is over in Chhattisgarh, we've suggested EC to ensure a secured counting process and firm security measures for EVMs&strong room,as unidentified persons with laptops and mobiles were seen around the strong room which is not allowed.
1:48 PM: Motilal Vora on CBI chargesheet against him in connection with re-allotment of institution plot in Panchkula, Haryana: Govt is working with bad intentions.Matter is sub-judice&truth will triumph at last.We'll give a reply of charge-sheet.There are no irregularities in the matter.
1:45 PM: Supreme Court has dismissed a plea seeking review of its 2015 verdict striking down the National Judicial Appointments Commission (NJAC) Act, which had led to the revival of the collegium system for appointment of judges.
1:01 PM: A Singhvi,Congress after meeting EC:We've informed EC about a polling booth in Saharanpur,UP, where process of deletion of names is being misused.Out of 100 forms, 58 were filled with wrong details.This may cause difference of 16000 votes in Saharanpur. It can change poll results
12:44 PM: Uttar Pradesh Chief Minister Yogi Adityanath in Kota, Rajasthan: If Congress doesn't oppose the construction of Ram Temple in Ayodhya, then in what capacity did Kapil Sibal say to the SC that the Ram Janmbhoomi case should not be heard until after 2019?
11:57 AM: Arms Act case in connection with Muzaffarpur Shelter Home Case: Former Bihar minister Manju Verma and her husband Chandrasekhar Verma have been sent to jail after they were produced before the Court today.
11:00 AM: Maharashtra: Naxals set ablaze a JCB machine and a tractor, being used for construction work, in Gadchiroli's Etapalli today.
10:40 AM: The 41st President of the United States of America, George H W Bush, passed away on November 30
09:17 AM: Central Bureau of Investigation registers FIR against Vikas Sabharwal, Assitant Audit Officer of Ministry of Home Affairs on the grounds of 'demand of illegal gratification'.
8:42 AM: Enforcement Directorate (ED) seized properties & cars of alleged naxal Musafir Sahni & Anil Ram in north Bihar. The accused has properties in Muzaffarpur and Vaishali district. Case under Prevention of Money Laundering Act (PMLA) registered against them.
8:02 AM: Delhi Police Economic Offences Wing has arrested real estate agents Nirmal Singh,Surpreet Singh and Vidur Bhardwaj, residents of Panchsheel Vihar, Sainik Farms and Greater Kailash,respectively. FIR lodged by homebuyers of Lotus Panache of Noida's Sector-110 for irregularities by builders
7:18 AM: According to the Air Quality Index (AQI) data, major pollutant PM 2.5 at 247 (poor) and PM 10 at 257 (poor), in Delhi's Lodhi R​oad area
7:01 AM: Two criminals were arrested this morning from Kotwali  following an exchange of fire with police in Delhi. One of them was injured & has been admitted to hospital. Two country-made pistols & a stolen motorcycle was recovered from them among others.
6:53 AM: Thane Police arrested three persons and seized skin and horns of deer worth Rs 50 lakh from them, yesterday. Case registered.
6:32 AM: Congress & Bahajun Samaj Party (BSP) workers protested outside a strong room in Madhya Pradesh's Satna yesterday after a video showing a person taking a carton inside the area went viral. Rahul Jain (DM) says,"The strong room is totally safe&secured. We will investigate the video." 
6:18 AM: In his intervention at the 2nd session at G20 Summit on international trade, international financial and tax systems, PM Narendra Modi presented a 9-point programme to take action against fugitive economic offenders: MEA
6:11 AM: President Vladimir Putin, President Xi Jinping and PM Narendra Modi participated in the RIC (Russia, India, China) trilateral in Buenos Aires, on the sidelines of G20 Summit in Argentina
6:00 AM: Microsoft surpasses Apple as the world's most valuable publicly traded company as Microsoft's big bet in cloud pays off, reports news agency AP