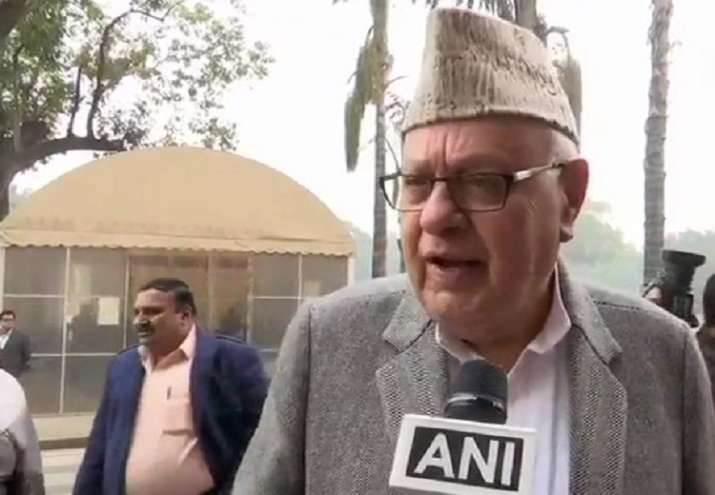 Former Jammu and Kashmir Chief Minister Farooq Abdullah on Friday said that the long pending contentious issue of Ayodhya Ram Temple should be resolved amicably through discussion.
Abdullah, the chairman of National Conference party, said if allowed he would go to Ayodhya to install a brick for Ram Temple.
"This(Ayodhya) issue should be discussed and sorted out across the table between people. Why to drag the issue to the court? I am sure it can be resolved through dialogue. Lord Ram belongs to the whole world, not just Hindus," Abdullah said.
Farooq Abdullah's statement came minutes after the Supreme Court deferred the hearing in the Ram Janmabhoomi-Babri Masjid land dispute title case to January 10. 
"Further orders will be passed by an appropriate bench on January 10 for fixing the date for hearing the matter," a bench comprising Chief Justice Ranjan Gogoi and Justice S K Kaul said.
No sooner the matter came up, the CJI said it is the Ram Janmabhoomi-Babri Masjid case and went ahead with passing the order.
Senior advocates Harish Salve and Rajeev Dhavan, appearing for different parties, did not even get the opportunity to make any submission. The hearing did not even last 30 seconds. 
Now, a three-member bench will be set up for taking forward the Ayodhya land dispute case in which as many as 14 appeals were filed against the 2010 Allahabad High Court judgement, delivered in four civil suits, that the 2.77-acre land be partitioned equally among the three parties - the Sunni Waqf Board, the Nirmohi Akhara and Ram Lalla.