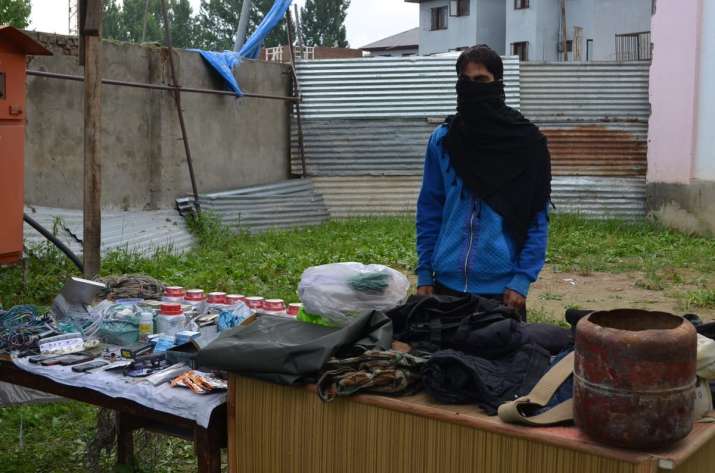 The Indian Army's Rashtriya Rifles and Central Reserve Police Force on Tuesday recovered several items required to make a bomb from a house in Jammu and Kashmir Pulwama district. The recovered items included a detonator, clock, connecting wires among other things. The recovery was made after a cordon and search operation (CASO) launched on the basis of a tip received by local police. 
Pulwama Police received an information through reliable sources that militant 2-3 in number are hiding in the house. Accordingly a CASO was launched by Pulwama Police, 55-RR and 182,183  BN CRPF in the area and a thorough search was conducted. During search huge quantity of explosive material was recovered from the said house, an official statement said. 
The material includes detonator, detonating material, connecting wires, electric chargers, batteries, mobile phones and remote control activating devices.  
Pulwama: Detonator, connecting wires among other paraphernalia recovered from a house by police, Rashtriya Rifles & Central Reserve Police Force who conducted a search operation after receiving a tip-off about the presence of 3 terrorists. House owner detained. #JammuAndKashmir pic.twitter.com/0rLWlr9k6M

— ANI (@ANI) July 17, 2018
Few of the seized items had Pakistani markings. 
In another incident a joint CASO comprising of 3 RR, 55 RR, 182,183 CRPF and Pulwama Police was laid in village Khellan near Naina Batapora. During serch of the target house a Chinese pistol, 7 live rounds 9 mm , 01 magzine and 01 7.62 mm round were recovered from the possession of a local identified as Sabzar Ahmad Mir of Khellan. A case has been registered and investigation is underway.