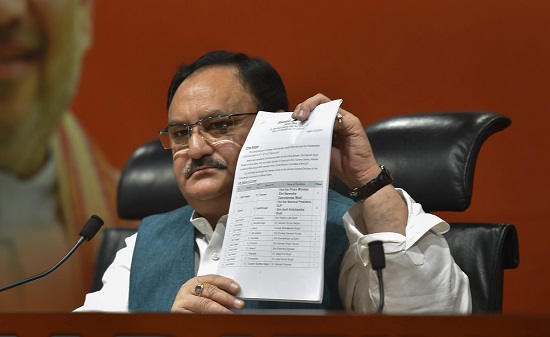 Bharatiya Janata Party released its first list of 184 candidates for the Lok Sabha election 2019 on Thursday. Uttar Pradesh and West Bengal showcased the highest and equal number of candidates in the first list that is 28. Karnataka held the second position with 21 candidates. Maharashtra and Rajasthan got placed at third position with an announcement of 16 seats each.
Kerala is in fourth place, the names of 13 candidates have been announced here. In the fifth place, Odisha and Telangana are jointly named, where the BJP has declared 10 candidates each. Assam is at the sixth place, where the party has declared 8 candidates.
Seventh place is jointly taken by Chhattisgarh, Jammu and Kashmir, Tamil Nadu, Uttarakhand, with declaration of names of five candidates each. At the eighth place are Arunachal Pradesh, Manipur, Tripura and Andhra Pradesh, where BJP has declared its two candidates each. The ninth place is Dadar Nagar Haveli, Lakshadweep, Sikkim, Gujarat and Andaman Nicobar where single candidate has been declared.
| | |
| --- | --- |
| States and Union Territories | No. of Candidates |
| Uttar Pradesh | 28 |
| West Bengal | 28 |
| Karnataka | 21 |
| Maharastra | 16 |
| Rajasthan | 16 |
| Kerala | 13 |
| Odisha | 10 |
| Telangana | 10 |
| Assam | 8 |
| Chhattisgarh | 5 |
| Jammu & Kashmir | 5 |
| Tamil Nadu | 5 |
| Uttarakhand | 5 |
| Arunachal Pradesh | 2 |
| Manipur | 2 |
| Tripura | 2 |
| AndhraPradesh | 2 |
| Dadra and Nagar Haveli | 1 |
| Lakshdweep | 1 |
| Mizoram | 1 |
| Sikkim  | 1 |
| Gujarat | 1 |
| Andman and Nicobar | 1 |
| Total no. of Candidates | 184 |
Read Also: BJP releases first list, PM Modi to contest from Varanasi, Amit Shah from LK Advani's Gandhinagar
Watch Video: