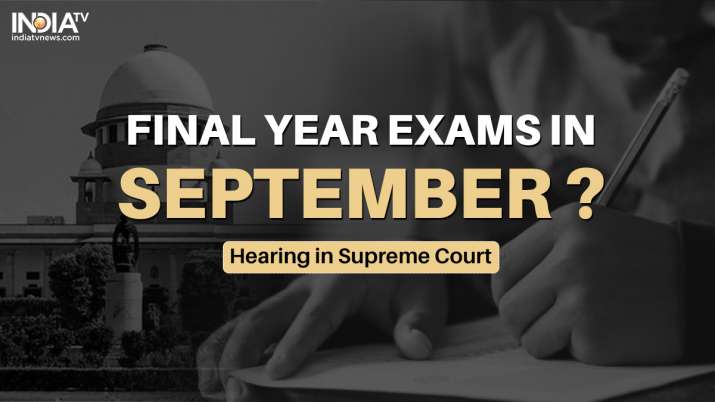 The Supreme Court on Friday heard pleas challenging UGC guidelines that mandate final year examinations by September-end amid the COVID-19 pandemic. The matter has been adjourned till August 18. During the previous hearing, the UGC had questioned the decisions of Delhi and Maharashtra governments to cancel final year exams of state universities, saying that they were against the rules. The top court bench headed by Justice Ashok Bhushan had granted time to the UGC to file responses to the affidavits filed by Maharashtra and Delhi in the matter. Advocate Alakh Alok Srivastava, appearing for some of the petitioners, said that the academic interest of a few students cannot outweigh the right to health and life of lakhs of students. "MHA/UGC have overlooked alarming COVID-19 crisis, poor health infrastructure and deadly flood. Their decision to conduct final exam is illegal and unconstitutional. SC will set it aside," he said. 
LIVE UPDATES:
12:56 pm: Supreme Court will now continue hearing the matter on Tuesday, August 18.
12:54 pm: Divan also highlights the anxiety that the students are facing die to uncertainty around exams.
Divan concludes his arguments.
12:54 pm: Divan raises the issue of transport and accessibility to say that the issue has practical constraints 
Bench says that these issues have been raised and addressed by Abhishek Manu Singhvi before.
12:53 pm: Divan says the students are a homogenous group and this group cannot be severed artificially by treating first-year students differently from final year students
12:51 pm: COVID figures from April: when exams could not be permitted to be held when the confirmed cases in India were in thousands, then how can they be allowed to be held now with cases being in lakhs and intensity increasing.
12:49 pm: Divan: Power of the authorities is not disputed but once the DM Act is invoked in a disaster condition and the right to life has been elevated, then the authorities cannot come in and exert power to dilute the provisions.
12:47 pm: Divan referring to the provisions of the Disaster Management Act. Section 6 is for the Prevention of Disaster and for mitigation. This is for prevention of spread and therefore, some measures must be taken.
12:42 pm: Divan reiterates that the MHA notification states: 
"States and UTs may not dilute these guidelines"
12:39 pm: Divan now refers to Unlock 3 notification which also prescribes for educational institutions to remain closed till August 31. 
It further delegates power to States to take liberty to impose further restrictions if required
12:35 pm: Divan: In normal times, they can do that and lay down a date but here there is non-application of mind or consideration of the pandemic situation
12:34 pm: Divan: By UGC imposing this date of 30th September, it is extremely unusual because there is no mention of health concerns or improvement of the situation (relating to COVID 19).
12:32 pm: Divan - In MHA guidelines for Unlock 2, educational institutions were required to be closed till July 31. 
This was a Central Government notification. The notification stated that States and UTs may not dilute this.
12:28 pm: Divan says the same sensitivity which was shown in the previous guidelines of the UGC was carried forward by the State.
There is an element of autonomy that was given to the States.
12:26 pm: Divan now refers to reports which show that in many States certain hostels and other facilities (that will now be used) have been used temporarily as quarantine centres. 
12:24 pm: Divan tries to highlight the perspective of students, says that many students have secured admission elsewhere and secured jobs etc
12:23 pm: Divan too, like Singhvi, says:
the previous guidelines had an element of "flexibility" and "sensitivity".
12:22 pm: Divan says the call eventually to be made is at the local level by Universities based on local conditions. 
12:21 pm: Divan - When the guidelines are advisory, then they should be tailor-made based on local needs.
Justice Shah asks: the mode of conducting the exams is advisory but holding the exams itself is not advisory?
12:18 am: Divan says that the UGC guidelines state that they are advisory in nature. Universities are free to chart out their own plan accordingly. 
12:16 am: Divan says that the UGC guidelines state that they are advisory in nature. 
Universities are free to chart out their own plan accordingly.
11:56 am: Singhvi - It would be outlandish to suggest that the UGC Act can say that exams are the only education. I have so many rights under Article 21, property under 300A. But, why does Court allow restrictions?
11:54 am: Singhvi explains to the Bench why he has chosen the Kerala judgements. 
The answer for education by UGC is a fallacious answer. 
11:52 am: Singhvi refers to 3 judgments: 2019 case of NCT Delhi, Biju Ramesh v. State of Kerala, and Mohd. Harris (2020 case). He now reads out one of the cases.
11:50 am: Singhvi says even a first-year will be able to say that this is not federal. This special situation is extra-ordinary. The pandemic is state-neutral, political color-neutral, people-neutral.
11:48 am: Singhvi says there are two positions of law here. The first is non-obstante. I am not reading out the Preamble, but the Preamble is important. 
Singhvi requests the Bench to underline it. 
11:47 am: Singhvi refers to earlier UGC Guidelines which states that the number of cases was rising. He attempts to convey that the UGC had been attentive to the needs of the students before. 
11:46 am: Singhvi says this is the Supreme irony. You say you are at the South Pole and you end up at the North Pole. I hope I am not exaggerating. 
11:45 am: Singhvi says no one is suggesting that a useless student will get through without assessment. 
Singhvi is reading out a previous UGC circular - This is the same UGC ! I am astonished. 
11:43 am: Singhvi - Since my learned friend has interrupted me, I will take 5 seconds to say that these are real human problems. 
SG tries to interrupt, but Justice Shah asks Singhvi to continue. 
11:41 am: Singhvi: Education is not special here; pandemic here is special. Pandemic applies to everyone and everything. If NDMA says that don't have physical courts, can I come and say that I have this right and that right ?
11:40 am: Singhvi says education is not special here; pandemic here is special. Pandemic applies to everyone and everything. If NDMA says that don't have physical courts, can I come and say that I have this right and that right?
11:34 am: Singhvi - All educational activity, teaching everything was stopped for the last five months. 
There is a direct nexus between teaching and being tested.
11:33 am: Singhvi: Consistent stance of the MHA since March has been that the educational institutions should be closed and the same was reiterated by the MHRD but a sudden volte-face now
11:30 am: Singhvi says exams have to be held after teaching... teaching has been disrupted and exams will be held now?
11:25 am: Singhvi: Intracity, Many students rely on public transport and the commute is a major issue.
Singhvi: The supreme irony is that the guidelines talk about the rising cases. 
11:24 am: Singhvi - There is great disparity between the classes of students who are expected to appear. 
Many students have gone back to their hometowns.
11:23 am: Dr. Abhishek Manu Singhvi, lead Counsel, in the case addresses the court first.
Singhvi: Larger question the SC is dealing with is the right to life. 
The graph of daily cases and daily deaths is rising.
11:22 am: Hearing begins in Supreme Court
11:20 am: Supreme Court Bench of Justices Ashok Bhushan, R Subhash Reddy and MR Shah to hear.
(With inputs from Bar&Bench and Live Law)
What happened during the previous hearing
Advocate Alakh Alok Srivastava said that the July 6 guideline for holding exams are neither legal or constitutionally valid. 
The advocate also raised the issue regarding guidelines issued by the Ministry of Home Affairs (MHA) for educational institutions amid the pandemic. 
Citing decisions of Maharashtra and Delhi, Solicitor General Tushar Mehta told the apex court bench that states cannot change the rules of the University Grants Commission as only the UGC is empowered to prescribe rules for conferring degree. 
SG Mehta also argued that not conducting exams will not be in the interest of students and degrees may not be recognised if the states would act unilaterally. 
UGC files affidavit in SC
The UGC filed an affidavit before the Supreme Court on August 13. The regulatory body told the apex court that final examination is a "crucial step" in the academic career of a student and the state government cannot say that its July 6 directive, asking universities and colleges to conduct final year exams by September 30 amid the COVID-19 pandemic, was "not binding."
The UGC said the July 6 guidelines are based on the recommendations of experts and have been made after due deliberation and it is wrong to claim that it will not be possible to conduct the final examinations in terms of the guidelines. 
"That apart, the state govt (Maharashtra) avers that the next academic session must begin in the interest of students, while, at the same time, contending that the final examinations should be cancelled and degrees can be awarded without such examinations even though such a step would irreparably damage the future of students.
Such contentions by the state govt are clearly therefore meritless."
Replying to Maharashtra's affidavit, the UGC said it is "entirely wrong" to say that its revised guidelines of July 6 are "not binding on the state government and its universities."
"In its common counter affidavit, the UGC has already emphasized and justified the need for conducting final examinations, be it in the form of program-ending terminal semester examination or final annual examination, because it is a crucial step in the academic career of a student."
The UGC said the guidelines provide sufficient flexibility to the universities or institutions for conducting the final year or terminal semester exams and it had duly consulted the stakeholders before issuing it. 
It said that Maharashtra's affidavit is "contradictory to its own claim that the prevailing circumstances are allegedly such that universities/institutions cannot function even to hold final examinations. "Needless to say, those alleged circumstances should then prevent even the commencement of the next academic session."
In its reply to the affidavit filed by Delhi government, the UGC said it has taken the policy decision to conduct final year or terminal semester exams in the interest of students across the country after duly considering the prevailing situation of a pandemic. Earlier too, the commission had said that such decisions directly affect the standards of higher education and will be an encroachment on the legislative field of coordinating and determining the standards of higher education that is exclusively reserved for Parliament under Schedule VII of the Constitution.