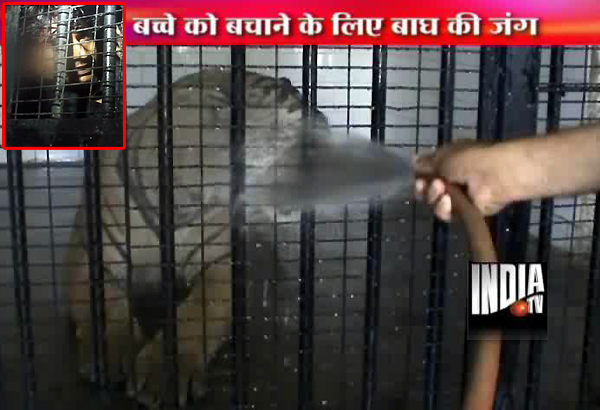 Jamshedpur (Jharkhand), Jul 15:
A 32-year-old man, apparently not mentally sound, was mauled and seriously injured by a tiger after he sneaked into its enclosure in the Tata Steel Zoological Society here, the police said today.





The man, identified as Asif, was found unconscious just outside the cage of Raghav, a full grown tiger, early this morning by the security personnel of the zoo.

Asif, it appeared, had jumped into the open enclosure by scaling the boundary wall from outside and when he lifted open the gate of the cage, the tiger attacked him and tried to pull him inside the cage, sources said.

During the scuffle, the gate fell down to its place closing the cage leaving Asif outside. Tigers roam in the enclosure during visiting hours and are kept in cage at night.

Asif, who was apparently not mentally sound and hailed from Kapali near here in Seraikela-Kharswan district, was removed from the enclosure and admitted to government-run M G M Hospital, sources said.

"We are trying to find out the intention behind his illegal entry into the enclosure," police said.  Meanwhile, zoo authorities tested the tiger and no harm was caused to it, Director Vipul Chakraborty said.

Asked whether the security arrangement would be tightened following the incident, Chakraborty said "We are reviewing all aspects regarding safety of animals."

On what could be the intention of Asif, he said, "He is in police custody. I can not say what was his intention."

Zoo sources had said they suspected the man entered the enclosure with the intention of poisoning the big cat to get its skin, or steal cubs from adjoining cages.

In October 2000, a tigress was killed and skinned at a zoo in Hyderabad by three persons at night, the sources said.

In August 2009, eight rare Brazilian marmoset monkeys were stolen from Kolkata zoo at night. Seven of them were later rescued from Durg district of Chhattisgarh.

Five lion cubs gifted by the National Zoo of South Africa last month were kept in the vicinity of the tiger enclosure here.

Asked whether it was a security lapse, Rajnish Kumar, a member of the Managing Committee of the zoo, said, "The incident would be probed. We have asked the agency that provides security in the zoo to submit a report soon."

Chakraborty said such entry into tiger enclosure had taken place earlier in the country—once in this zoo and twice in Kolkata's Alipur zoo.

About a decade ago, a drunk man had made an attempt to enter the tiger enclosure here but was rescued.

On December 16, 2000, a drunk man had jumped into the tiger enclosure of Alipur zoo, swam across the moat and got near a tiger, Bob, who mauled him to death.

Prior to that, on the New Year day of 1996, two drunk men tried to garland tiger Shiva after entering its enclosure. The animal killed one of them and injured the other.