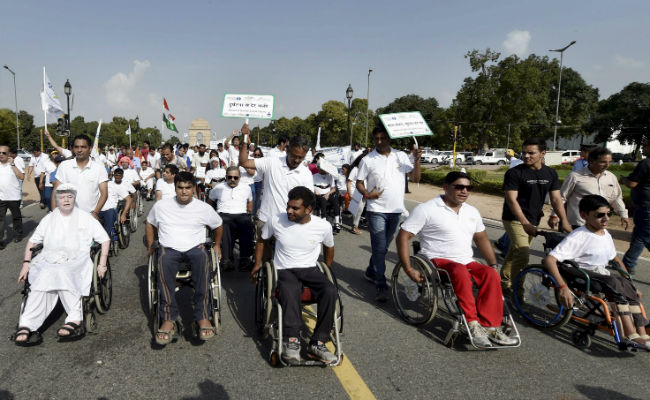 With the aim of spreading awareness, around 100 spinal injury patients marched on the magnificent Rajpath, Delhi. Flagged off by Union Minister Mahesh Sharma, the unique rally demonstrated their unbeatable enthusiasm to live life to its fullest. 750 able bodied person were also present along with the wheelchair users.
India's fastest wheelchair marathoner, Shailesh Kumar Sinha, and the Joint Commissioner of Delhi Police Ajay Choudhary were guests of honour for the rally.International Spinal Cord Society (ISCoS) organised the event with the objective of spreading awareness about spinal injuries and their treatment. "This is a wonderful initiative from ISIC for supporting differently abled people. I congratulate ISIC for taking up this serious issue. The Indian Government with its Accessible India Campaign has been working towards this objective and towards the creation of an inclusive India," said Sharma.
Spinal Cord Injury Day is observed on September 5th every year. The event provides a much needed public platform to not just raise awareness among people with spinal injuries but also advocate and sensitize masses towards achieving an inclusive life for the differently abled people. It also provides an opportunity to ensure greater reach and success for prevention programmes. 
A spinal cord injury is a damage to spinal cord which disrupts its function temporarily or permanently. There can be loss of strength and sensation below the lesion.
(With ANI inputs)