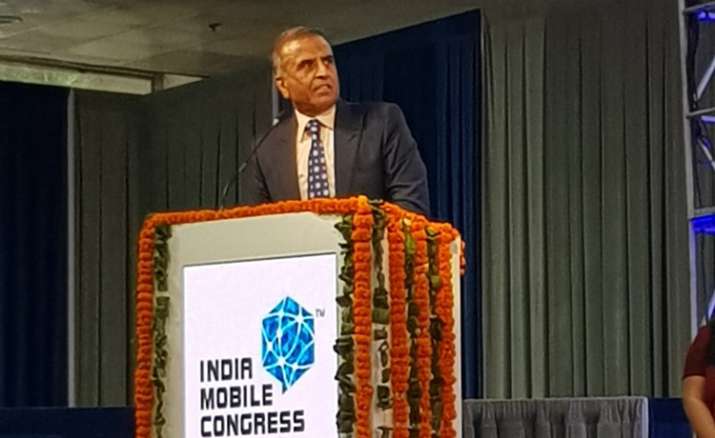 The inaugural edition of the three-day India Mobile Congress, being held in New Delhi from September 27 to September 29, is attended by Mukesh Ambani, Sunil Mittal and Kumar Mangalam Birla -- rivals in India's telecom services market.
The three telecom industry biggies are sharing the stage and making a special address, along with Vodafone Group CEO Vittorio Calao.
Union Petroleum & Natural Gas and Skill Development and Entrepreneurship Minister Dharmendra Pradhan, and Union Electronics & IT and Law & Justice Minister Ravi Shankar Prasad will also make addresses today.
Here are the highlights:
03: 30 pm: India's time has come...each large tech honcho is looking at India: Sunil Bharti Mittal, Bharti Airtel Ltd Chairman
03:28 pm: Telecom industry will be worth $38.25 billion by end 2017: Manoj Sinha
03:26 pm: 0.2 million sites have been rolled out in last 15 months: Manoj Sinha, MoS (Independent Charge), Ministry of Communications
03:26 pm: We need to balance data availability, data utility, data innovation, data anonymity and data privacy:  Ravi Shankar Prasad
03:25 pm: 100 mobile manufacturing units have been set up in India in 3 years: Ravi Shankar Prasad, Minister of Electronics & IT 
02:15 pm: Telecom Sector is the backbone of digital India programme, says Manoj Sinha
02:10 pm: New telecom policy will be a key building block for achieving higher growth in the sector. Market will cross USD 6 trillion mark by 2020: Manoj Sinha
02:07 pm: We are hopeful that this will be a huge platform for mobile and internet technology sector in the sub-continent, says Manoj Sinha
02:02 pm: We are proud to say that our country is now hosting its own first ever mobile, Internet and technology event — The India Mobile Congress, says Manoj Sinha
02:00 pm: Manoj Sinha, Communications Minister and Minister of State for Railways is now speaking
01:59 pm: Have to balance data anonymity, availability, privacy; New e- commerce policy, cloud policy in the pipeline, says R S Prasad
01:57 pm: Three new Centre for Excellence will be established in Gandhinagar, Gurugram and Vishakhapatnam, says Ravi Shankar Prasad
01:54 pm: Government is going to launch 'Umang', a platform where 100 government services will be at the touch of a button, says R S Prasad
01:52 pm: Ravi Shankar Prasad  says that the government is going to launch 'Umang', a platform where 100 government services will be at the touch of a button.
01:47 pm: Digital India "is about bridging the gap between digital have and digital have nots, says R S Prasad
01:45 pm: Competition has made India to have the worlds cheapest call, cheapest data and cheapest mobile phone, says Ravi Shankar Prasad
01:44 pm: India Mobile Congress must create a model that can be replicated by rest of the world, says Pradhan
01:43 pm: Grateful to telecom industry for enabling us to bring LPG to 5 cr homes across India, says Dharmendra Pradhan
01:39 pm: Dharmendra Pradhan, Energy Minister promises to bring E-commerce and Digitization in the energy sector
01:35 pm: The healthy competition between Sunil Mittal and Mukesh Ambani has led to free calling, says Dharmendra Pradhan
01:20 pm: As 5G starts to develop globally, India's keeping track & will be rewarded with latest tech, says Sunil Mittal
​01:18 pm: We have invested Rs. 10,000 cr till September and we invest Rs.18,000-20,000 cr this year, says Sunil Bharti Mittal
​01:17 pm: Vodafone Group CEO Colao says that India's biggest strength is having a young work force. Calao calls India's unconnected individuals a 'great opportunity'.
01:15 pm: India is one of biggest Telecom markets throughout the globe. Believe the Indian economy will grow $7 trillion in next 10 yrs: Mukesh Ambani​
​01:12 pm: India provides big enough opportunity for all of us to grow together. Today we are an unstoppable nation: Mukesh Ambani
01:10 pm: Data is the new oxygen, new oil for 1.3 billion Indians. Our aim is to not only provide high-speed data at affordable prices but also affordable smartphones to help people connect better with the Internet, says Mukesh Ambani
01:09 pm: Realise PM Narendra Modi's dream of digital India; we have to get together: Mukesh Ambani