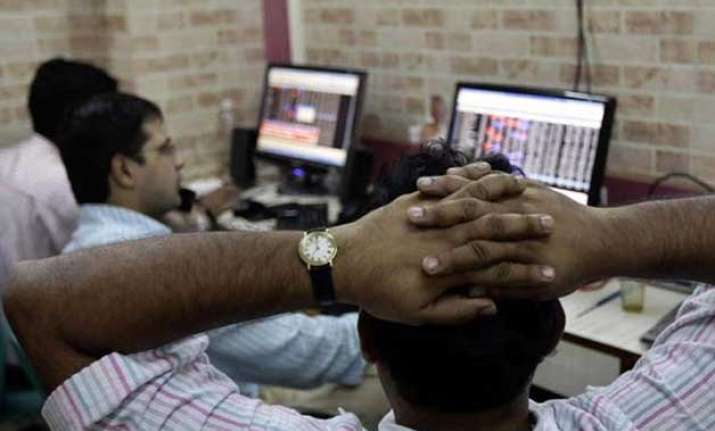 Mumbai: Indian stocks fell to over one-month lows today with benchmark Sensex losing 65.59 points to end at 28,437.71 and Nifty index shedding 14.60 points to close at 8,633.15 as markets turned volatile ahead of a closely watched US Fed policy meet that may indicate timing of rate hike.
The 30-share Sensex after hitting a session high of 28,581.82 in early trade, subsequently succumbed to selling in bluechips and slipped into red as it hit a low of 28,384.09.
After cutting some losses, the Sensex settled at over one-month low of 28,437.71, down 65.59 points, or 0.23 per cent. An earlier than expected US interest rate hike is feared to trigger capital outflows from emerging markets like India.
The US dollar hit a 12-year high against the euro today, ahead of Federal Reserve policy meeting this week, while oil prices fell again as US supplies continued to build.
Global investors are keeping their focus on the Fed's policy meeting on Wednesday, seeking a timeline for when it will raise interest rates as the US economy strengthens.
The Sensex had lost 427.11 points on Friday after rise in retail inflation dimmed hopes of aggressive rate cuts by RBI.
Also, the NSE index Nifty ended 14.60 points, or 0.17 per cent, down at over one-month low of 8,633.15 after touching a high of 8,663.55 and a low of 8,612 intra-day.
Selling pressure was visible across-the-board despite successful coal and spectrum auctions and passage of Insurance Bill in Parliament, brokers said.
"After the budget, the most anticipated macro event which is watched by markets worldwide is the FOMC meet that is scheduled in coming weeks where markets fear rate hikes by Fed backed by reviving growth and better than expected jobs data," said Hiren Dhakan, Associate Fund Manager, Bonanza Portfolio.
Globally, Asian markets ended mixed as investors await developments from Bank of Japan and US Fed meetings this week.
European markets edged up in opening trades.
After judging the outcome of recent IIP and CPI numbers, it almost became evident that RBI would not be cutting rates in the upcoming policy meet but the outcome of WPI has once again raised hopes of a rate cut, he added.
During the day, government data showed Wholesale Price Index (WPI) inflation for February dipped (-) 2.06 per cent.
This is the fourth month in a row that WPI-based inflation remained in the negative zone.
Foreign Portfolio Investors (FPIs) bought shares worth a net Rs 66.98 crore last Friday, as per provisional data.
In Asia, key benchmark indices in China, Hong Kong, Singapore and South Korea closed up by 0.08 per cent to 2.26 while from Japan and Taiwan finished lower by 0.04 per cent and 0.69 per cent respectively.
European stocks were trading higher in their late morning deals as investors bet that a renewed drop in the euro would boost the region's economy and lift exporter earnings.
France's CAC was up by 0.65 per cent, Germany's DAX rose 0.97 per cent and the UK's FTSE edged up by 0.16 per cent.
Back home, as many as 19 scrips out of the 30-share Sensex ended lower. Major Sensex laggards included Sesa Sterlite (5.16 per cent), Hindalco (3.64 per cent), Bharti Airtel (2.80 per cent), NTPC (2.29 per cent), Dr Reddy's (1.77 per cent), HDFC (1.66 per cent), GAIL (1.54 per cent), Cipla (1.25 per cent), ITC (1.06 per cent), HUL (1.04 per cent), and Reliance Industries (0.95 per cent).
However, Infosys rose by 2.28 per cent, Sun Pharma 1.59 per cent, Tata Power 1.57 per cent, BHEL 1.45 per cent and Wipro 1.40 per cent.
Among the S&P BSE sectoral indices, Metal index fell by 1.49 per cent, FMCG by 0.96 per cent and Capital Goods by 0.63 per cent while IT rose by 1.1 per cent, Realty 1.15 per cent and Teck 0.52 per cent.
Small-cap and Midcap indices dropped by 0.87 per cent and 0.34 per cent on persistent selling from retail investors.
Total market breadth remained negative as 1,859 stocks finished with losses and 1,024 ended with gains while 126 held steady. The total turnover fell to Rs 3,233.08 crore from Rs 3,865.60 crore yesterday.