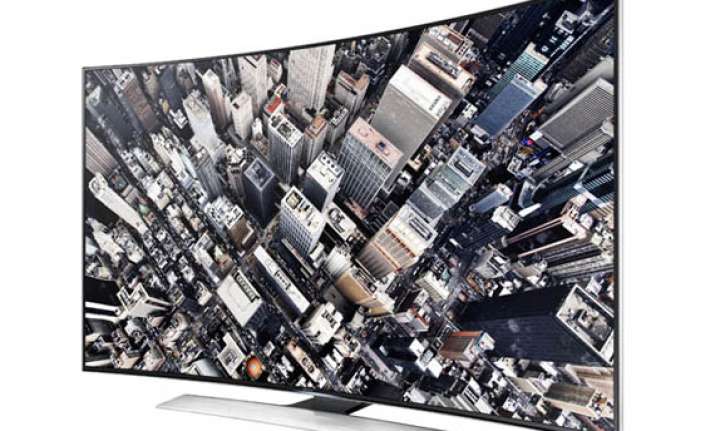 New Delhi: Samsung Electronics has launched its curved UHD (Ultra High Definition) or 4K televisions in the Indian market starting from Rs 3,29,900. The HU9000 series offers 55-inch and 65-inch curved UHD TVs priced at Rs 3,29,900 and Rs 4,49,900, respectively. The company will also unveil 105-inch UHD curved TV in the second half of the year, but its pricing has not been revealed yet.
Of late, UHD televisions – that have four times as many pixels as the industry-standard high definition – are increasingly going into the mainstream this year. Why? Because these television sets offer more have more pixels than some cinema projectors – thus delivering a fabulous movie watching experience. The arrival of the new Ultra HD sets is part of a home-theater renaissance that is sure to prompt lots of people to consider an upgrade.
Samsung also claims that the curved TV brings images with wider viewing angle, crisp and clear picture quality, images with deeper depth, along with higher contrast levels, making images appear larger and true to life.
Samsung HU9000 also comes with Samsung's proprietary Auto Depth Enhancer, an algorithm that analyzes regions of images and automatically adjusts contrast for a greater sense of depth. Additionally, even the color is further enhanced using the PurColor technology that reproduces color for even more detailed expression.
The launch of HU9000 comes at a time when the company is looking bolster availability of 4K/UHD content. At present, there are very few sources for UHD content, regardless of the fact that Samsung, LG, Sony, and others have been pushing their top-tier models at an increasing rate as of late.  
The HU9000 65-inch curved 4K/UHD TV will come loaded with a number of features, including UHD Upscaling, Precision Black Local Dimming, a bevy of Samsung's proprietary image enhancement features, and HDMI 2.0, which allows for the industry's highest resolution 4K streams. 
In order to make sure that these UHD TVs are easier to operate, they come with multi-link screen feature that allows dual screens to process separate tasks that operate alongside each other.
To deliver speedy performance, the company has equipped HU9000 with a quad-core processor that ensures that TV boots four-times faster thanks to its "Instant On" feature, and if you're one for multitasking, Quad Screen lets you access live TV, video clips, and the web all at once on a single display. So, now you can browse through the panels for apps, multimedia content, NewsOn features and more with the swift speed of the Samsung Smart TV
Finally, no special mount is required to hang the HU9000 on your wall. The display includes spacers that make it compatible with just about any wall mount designed for larger TV.
Samsung's UHD TVs support most connectivity standards including HEVC, HDMI 2.0, MHL 3.0 and HDCP 2.2 and can be upgraded through the Samsung UHD Evolution Kit.