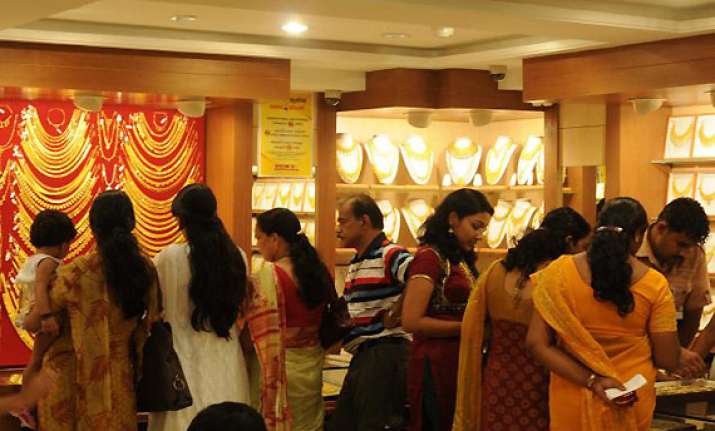 Mumbai, Apr 15:
Gold is selling at over Rs 28,500 per 10 grams currently, but jewellers expect the business to grow by about 25 per cent on the Akshaya Tritiya, a day in the Hindu calendar which is considered auspicious for buying the yellow metal.
"The consumer mood in general is very upbeat despite the ruling high price. The sales have been higher by 15 per cent over the last year due to the onset of marriage season and festivals. And we expect it to be 25 per cent higher on Akshaya Tritiya," All-India Gems and Jewellery Trade Federation (GJF) Chairman Bachhraj Bamalwa said.
The gold price in Mumbai was Rs 28,525, and Rs 28,890 in Delhi, on the weekend.
Bamalwa said the jewellers are using their old inventory to meet this demand. "Usually, we add new stocks during Akshaya Tritiya. However, this year we are not building any new inventory till the government takes some positive action and rolls back the one per cent Excise duty and (hiked) Customs duty proposed in the Budget."
Jewellers had gone on strike on March 17, and the protest was finally called off on April 6, after Finance Minister Pranab Mukherjee promised to consider demand of roll-back.
Gitanjali Group Chairman and Managing Director Mehul Choksi said the demand has been very strong. "We are expecting about 25 per cent growth in sales during Akshaya Tritiya over last year in value terms, volume growth is likely to be around 10 per cent," he added.
Mumbai Jewellers Association vice-president Kumar Jain opined that customers are booking jewellery for marriage season, which they will collect on Akshaya Tritiya.
"We are expecting better sales than last year....We expect at least 15 per cent more sales than last year."
However, Bombay Bullion Association President Prithviraj Kothari said there is hardly any demand due to liquidity crunch in the market.
"There is no demand for jewellery as the prices of gold are ruling very high. Jewellers are also utilising old stocks for manufacturing jewelleries."