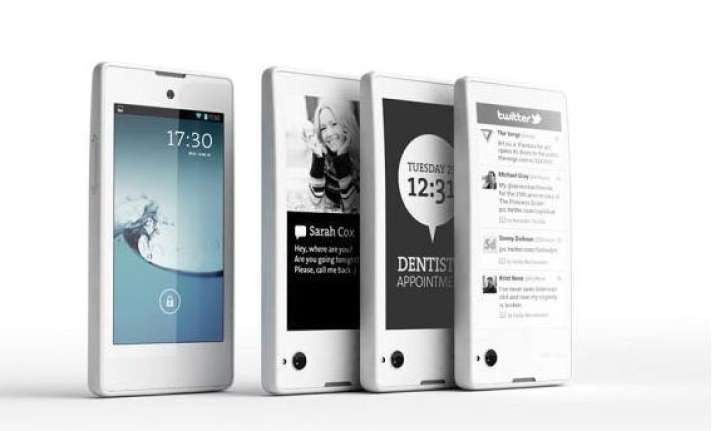 New Delhi: Russian manufacturers Yota Devices are soon going to launch Yotaphone 2, the successor of Yotaphone, on February 24 at MWC.
While the report does not provide concrete specifications so far, this model Yotaphone2 seems to be a development over its forerunner.
The descendant is believed to have two displays, an E-ink display on the other side of the phone and a regular touch screen display similar to the first generation of the Yotaphone.
This model of Yotaphone comes well-equipped with the E-ink display, also getting full touch capabilities having bigger displays than the original. 
Back in December,Moscow-based Yota Devices launched the YotaPhone Android version 4.2.2 dual screen in some of the preferred markets of Europe.
Moreover, the company plans to sell their phone in over 20 countries in 2014, after launching the phone in France, Austria, Spain, Germany and Spain. 
 Yotaphone's first generation phone has a primary 4.3-inch display with the screen size 720x1280pixels and secondary 4.3-inch E-Ink display with a 360x640 resolution.
The specialty of the E-ink display not only work as an e-book reader but it also streams text messages, social media, maps, weather and breaking news. 
Yotaphone carries features such as dual-core 1.7GHz Snapdragon processor together with a 2GB RAM.
Yotaphone's first generation dual cameras include a 13-megapixel primary camera and a 1-megapixel secondary camera on the front.  
Moreover, the phone presents LTE connectivity and an 1800mAh battery.  
Before the phone was launched the company had already received about 10,000 orders and later it was priced at 19,990 roubles in Russian stores.
Even when the phone was launched it was priced at 499 euros and $600 in Europe and the United Arab Emirates respectively.