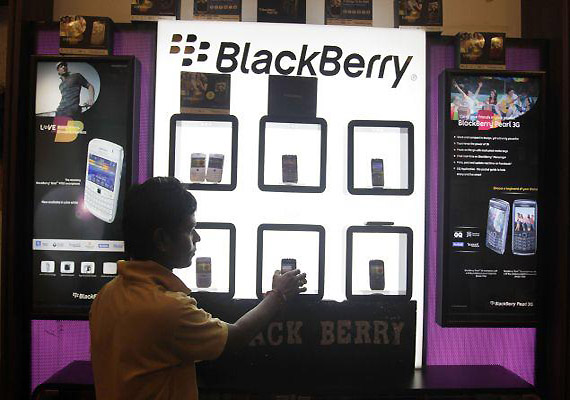 New Delhi, Mar 28: BlackBerry-maker Research in Motion on Wednesday slashed prices of its handsets by up to 26 per cent as it looks to grab a bigger share of the smartphone market in India.
The reduction in prices of handsets comes after the Canadian company cut prices of its tablet PC PlayBook in December last year.
"RIM as a brand has moved from just an enterprise device to as a more consumer device. Be it our services or the product, we have seen a strong uptake by the youth and therefore, to get the devices into more hands, we are cutting the prices," RIM India Managing Director Sunil Dutt told PTI. The move will help us tap a wider base of the large market that India is, he added.
While the price of entry-level model — Curve 8520 — has been reduced by over 18 per cent to Rs. 8,999 from Rs. 10,990, the price of Torch 9860 has been reduced by over 26 per cent per cent to Rs. 21,990 from Rs. 29,990 earlier.
The retail price of Curve 9380 and Curve 9360 has been reduced to Rs. 16,990 and Rs. 18,990, respectively. The handsets were earlier available for Rs. 20,990 (Curve 9380) and Rs. 19,990 (Curve 9360).
"These four handsets comprise a bulk of sales in the country, it is 60 per cent of the business from India," Mr. Dutt said.
According to a CyberMedia study, smartphone shipments touched 11.2 million units in calendar year 2011, recording a year-on-year growth of 87 per cent.
While Nokia was the leader in the smartphones segment with 38 per cent share, Samsung followed with 28 per cent share in CY 2011. RIM stood at third place with a 15 per cent share.
Mr. Dutt said the company aims to further enhance its presence and leverage the demand for its products.
"The focus is not just on reducing prices, but we want to address a larger number of people and give them the overall experience of BlackBerry. We will continue to focus on bringing locally relevant products, services and applications to Indian consumers," he said.
In December last year, RIM had slashed the price of its PlayBook by more than half to Rs. 24,490 for the 64GB version under an offer from the original price Rs. 37,990. This was further reduced to Rs. 19,990 earlier this month.
A report released by Cybermedia Research indicates 21 per cent market share for BlackBerry PlayBook in India, he added.
The price of the 16GB version was however raised marginally to Rs. 13,990 from Rs. 13,490 (available under the offer). The device was originally launched at Rs. 27,990.