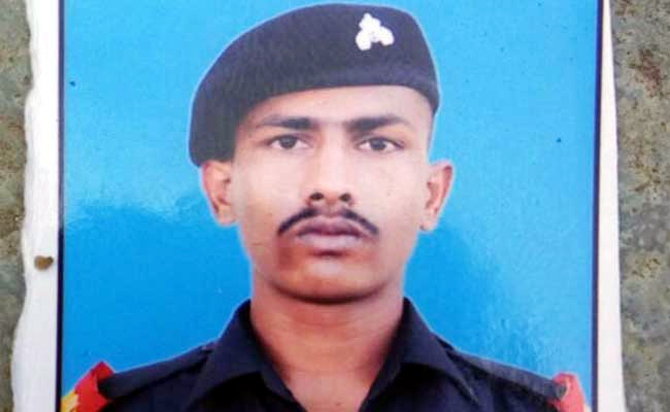 Two weeks after Indian soldier Chandu Babulal Chavan who was reported to have inadvertently crossed over to the other side of the Line of Control (LoC), the Pakistan army has confirmed that the 22-year-old is in their custody.
The first official confirmation of the whereabouts of Chavan was conveyed on Thursday by officials of the Pakistan army's military operations directorate to their Indian counterparts over the official hotline, Army sources told The Indian Express.
Islamabad's DGMO confirmed that the 22-year-old Sepoy Chandulal is in Pakistan's custody.
Chavan, posted with 37 Rashtriya Rifles at Mendhar, crossed over to the Pakistani side with his rifle around noon on September 29, hours after DGMO Lt General Ranbir Singh had announced the surgical strikes by Indian special forces on terrorist launch pads in Pakistan Occupied Kashmir.
By 2.30 pm that day, Lt General Singh had informed the Pakistan army on the hotline about Chavan, said sources. The Indian Army had clarified at the time that Chavan's disappearance was not connected to the strikes.
Two weeks ago, Chavan's grandmother Lilabaisuffered a cardiac arrest and died after the family was informed that he was captured by the Pakistan army.