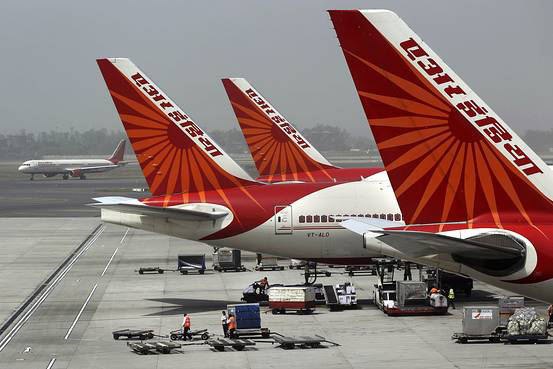 India's national carrier Air India has been ranked third worst among the airlines across the world in terms of on-time performance.
According to aviation insights company FlightStats, Netharlands flag carrier KLM is the best international airline in 2016 based on the on-time performance records. 
FlightStats examines flight status and arrival data aggregated from global sources including civil aviation authorities, airlines, airports, and major airline reservation systems and puts together a list of the international airlines with the best on-time performance records.
Air India, however, rejected the report and said, "Disagree with report, seems it is fabricated."
Air India, which is staying afloat on a ten-year long bailout package worth over Rs 30,000 crore, posted an operating profit of Rs 105 crore in the last fiscal. This was the first time in a decade that the embattled carrier turned operationally profitable.
However, in the first two quarters of the current financial year (2016-17), the airline reported operational losses, raising concerns about its financial stability.
Its cumulative losses stood at over Rs 700 crore for the six months ended September 2016.
The Rs 30,231 crore bailout package was extended by the previous UPA government in 2012 apart from equity support for payment of principal/interest of the non-convertible debentures. Air India's total borrowings stood at Rs 46,570,35 crore as on September 30, 2016.
Here are the best and worst performers of 2016 in terms of On-Time Performance: 
The 10 Worst International Airlines of 2016:
1. El Al – 56 per cent
2. Icelandair – 41.05 per cent
3. Air India – 38.71 per cent
4. Philippine Airlines – 38.33 per cent
5. Asiana Airlines – 37.46 per cent
6. China Eastern Airlines – 35.8 per cent
7. Hong Kong Airlines – 33.42 per cent
8. Air China – 32.73 per cent
9. Korean Air – 31.74 per cent
10. Hainan Airlines – 30.3 per cent
Here are the best performers: 
1. KLM – 11.47 per cent
2. Iberia – 11.82 per cent
3. JAL – 12.2 per cent
4. Qatar Airways – 13.66 per cent
5. Austrian – 14.26 per cent
6. ANA – 14.46 per cent
7. Singapore Airlines – 14.55 per cent
8. Delta Air Lines – 14.83 per cent
9. TAM Linhas Aéreas – 14.93 per cent
10. Qantas – 15.7 per cent