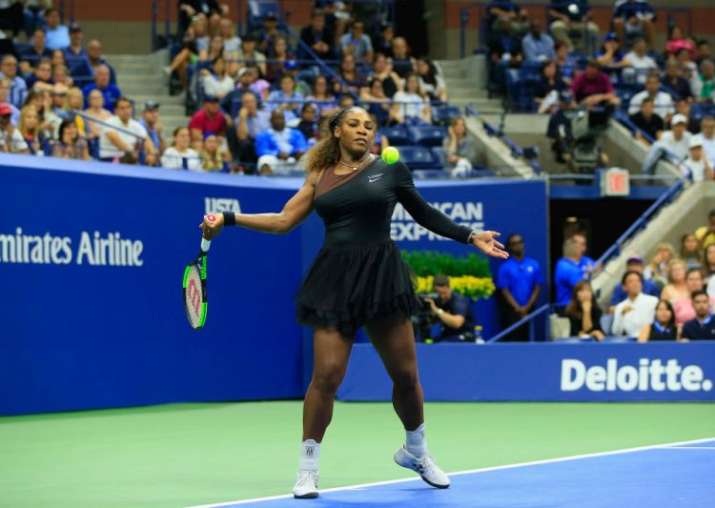 The Australian cartoonist behind the controversial depiction of Serena Williams jumping up and down on a broken racket has defended himself against claims of racism. Mark Knight of Melbourne's Herald Sun also shows in the cartoon the umpire telling a blond, slender woman, meant to be Japan's Naomi Osaka, who is actually Japanese and Haitian, "Can you just let her win?"
Many critics have said the cartoon is racist and sexist.
The author of the Harry Potter series, JK Rowling, compared it to racist caricatures of black people that were common in the past.
"Well done on reducing one of the greatest sportswomen alive to racist and sexist tropes and turning a second great sportswoman into a faceless prop." she tweeted.
But Knight told local media that he didn't expect the firestorm after drawing the image.
"Once upon a time you would get a terse letter from a reader. Now you have the whole world, 80 million people piling on you. I didn't anticipate that with this cartoon which was basically just a cartoon about a sportswoman having a hissy fit on centre court at the US Open," Knight told local media.
During Saturday's championship loss to Osaka, Williams got a warning from the chair umpire Carlos Ramos for violating a rarely enforced rule against receiving coaching from the sidelines.
An indignant Williams emphatically defended herself, denying she had cheated.
A short time later, she smashed her racket in frustration and was docked a point.
She protested that and demanded an apology from the umpire, who penalised her a game.
Knight said the cartoon had been "distorted" and linked to US racial politics.
"I simply saw the World Number One player, one of the greatest players of all time who I have admired and drawn many times having a dummy spit and I can say that when I drew the cartoon it was like 'yeah that's not bad,' and off it went. I did not expect that it would be picked up and used I guess as a symbol of racism and gender politics in America," Knight said.
Knight also says his family is worried after receiving "threats" which he didn't specify.
Williams was cited by Ramos three times last Saturday during her 6-2, 6-4 loss to Osaka: for getting coaching signals; for breaking her racket, which cost her a point; and for calling Ramos a thief, which cost her a game.
On Sunday, the tournament referee docked Williams 10,000 US dollars for "verbal abuse" of the chair umpire, 4,000 US dollars for being warned for coaching and 3,000 US dollars for breaking her racket.