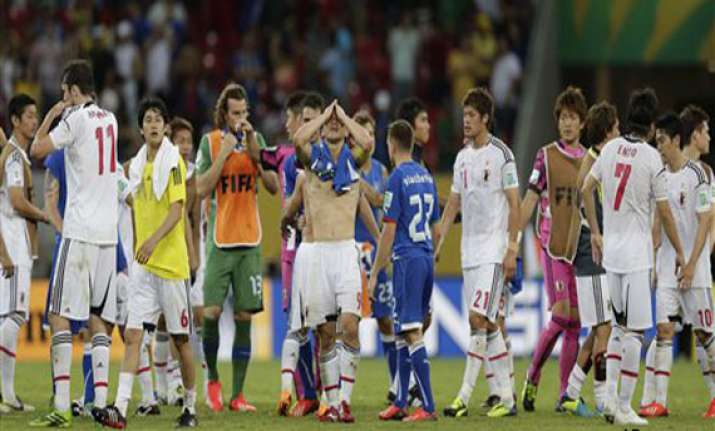 Recife, (Brazil) Jun 20 :   Alberto Zaccheroni tried to get his Japanese players to play like the Spanish, and they nearly pulled it off.
The veteran coach, considered by many to be a tactical mastermind, watched his team scare Italy for 90 minutes before finally losing 4-3 Wednesday at the Confederations Cup, getting eliminated from the World Cup warm-up tournament with one match still to play.
"The idea was to play more or less the way that Barcelona played, a Spanish way of playing. You try to apply pressure and retain ball possession as much as possible," said Zaccheroni, an Italian who led Japan to the Asian Cup title in 2011. "We tried to maintain ball possession as much as possible ... We also tried to make sure that the ball circulated quickly, one touch or two touches only."
The plan worked perfectly for most of the first half at the Arena Pernambuco as Keisuke Honda gave Japan the lead in the 21st minute from the penalty spot following a defensive error. Shinji Kagawa then made it 2-0 in the 33rd after another defensive mishap.
But Italy was able to bounce back with a goal just before halftime, and then three more in the second half.
"They had fewer opportunities but they were better at scoring. From my point of view, the difference in international experience was clear," Zaccheroni said. "In regards to the game, I don't think we were inferior to Italy."
Trying to copy Barcelona and Spain certainly seemed like a good idea. Barcelona has been the best club team in the world over the past few years, while Spain has won the World Cup and two European Championships since 2008.
But unlike Spain, Japan couldn't hold on.
"We lost in a very regrettable way," said Kagawa, a Manchester United midfielder who was named man of the match despite being on the losing side. "Italy was able to seize the few opportunities that they had and that was the difference."
Zaccheroni has talked frankly about his team since arriving in Brazil. Japan became the first team to qualify for next year's World Cup before making the trip to South America, but the coach has repeatedly mentioned the gap between his team and the best in the world.
Of course, he also makes reference to how much Japan has improved.
"Japanese football is a very young brand of football, but they have taken giant steps in recent years. Our objective in preparation for the World Cup is to try and reduce this gap between Japan and these strong teams," Zaccheroni said. "So we'll see the margin by which we manage to reduce this gap. That's our challenge -- my challenge and the team's challenge."
Italy's challenge on Wednesday was to win, and they finally pulled it off when first-half substitute Sebastian Giovinco scored the deciding goal in the 86th minute, not long after Shinji Okazaki had equalized for Japan.
"My esteem for them has even improved," Italy coach Cesare Prandelli said of Japan. "They have great potential for the future."
Japan will next face Mexico on Saturday in Belo Horizonte. Both teams have been eliminated from the competition after losing their opening two matches.
But Japan, according to Zaccheroni, maybe deserves more.
"Generally when you manage to play like this you also win games, so I feel sorry for my players," Zaccheroni said. "Our players didn't play with a lot of determination in the opening match (against Brazil), but tonight they certainly did."