Follow us on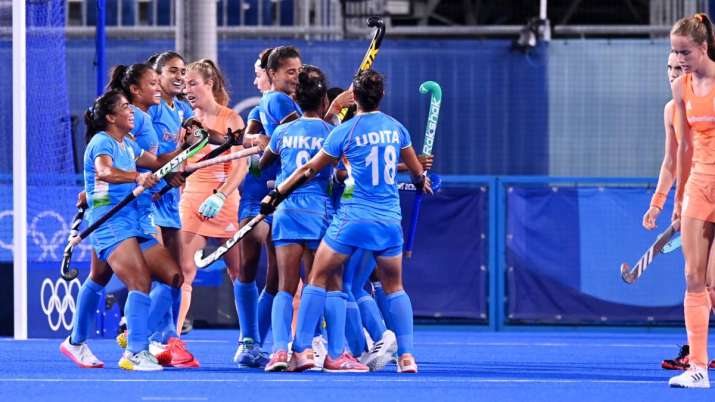 HIGHLIGHTS Tokyo Olympics 2020 Day 1:
6:43 PM: 
It's a comfortable win for the Dutch team. They have registered a 5-1 victory to kick-start their Tokyo campaign. After skipper Rani's equalizer, nothing went in the Indian team's favour!
6:30 PM: Goal! Another one for the Netherlands. The No.1 ranked side has outclassed the Indian unit and the scoreboard reflects the story. It's 5-1 now in the fourth quarter.
6:20 PM: Goal! The Netherlands extend their lead over India with two goals in quick succession. It's 4-1 now!
6:07 PM: Goal! It's 2-1. The Netherlands have taken the lead after winning a penalty corner. The Oranje have finally infiltrated the Indian defence. 
5:53 PM: The Indian team has managed to keep the Netherlands away from scoring. It's still 1-1 at the end of the second quarter. After finishing last in their previous Olympics outing in Rio, the Indian women have bounced back stronger.
5:33 PM: The first quarter ends at 1-1. The Netherlands opened the scoring early but India's skipper Rani Rampal equalised in the 10th minute.
5:18 PM: After World No.1 Netherlands, the Indian women will take on Germany (July 26), Great Britain (July 28), Ireland (July 30) and South Africa (July 31) in the group stages.
5:00 PM: The Indian women's hockey team is set to face the Netherlands in their opener. 
4:57 PM: Tomorrow on Sunday, six-time world champion M C Mary Kom (51kg) and Commonwealth Games silver-medallist Manish Kaushik will compete in their opening bouts.
4:21 PM: A poor start from Krishan as he loses the clash against Okazawa. The 69kg first-round bout goes to the Japanese by a unanimous 5-0 decision.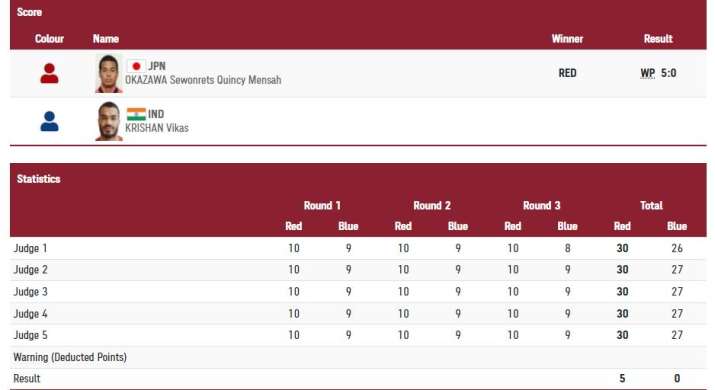 4:16 PM: Okazawa, the local pugilist, has also clinched the second round.
4:10 PM: Among the most accomplished names in Indian boxing and a strong Olympic medal hope, Vikas is up against Okazawa! The Japanese pugilist has been impressive in the first round.
03:24 PM: Vikas is set to start India's boxing campaign against Japan's Sewonrets Quincy Mensah Okazawa. If Vikas overcomes the hurdle, he is scheduled to face third-seeded Roniel Iglesias in the round of 16.
02.50 PM: Next up for India in today's events features Vikas Krishan, the celebrated boxer who will compete in the Preliminaries of Men's Welter (63-69kg), where he will meet Japan's Sewonrets Quincy Mensah Okazawa.
02.42 PM: Mirabai Chanu pens down a heartwarming message after opening India's medal account with a silver medal in Weighlifting (49kg category).
Table Tennis (Women's Singles Round 1)
02.31 PM: Sutirtha Mukherjee will face Portugal's Fu Yu in the second round. The timings for the match will be announced in due course.
02.25 PM: Sutirtha Mukherjee beats Sweden's Linda Bergstroem to enter women's singles 2nd round! She beats the Swedish 5-11, 11-9, 11-13, 9-11, 11-3, 11-9, 11-5.
02.20 PM: Strong start from Sutirtha in the final game. She leads 4-1.
02.13 PM: Sutirtha Mukherjee wins the sixth game to level 3-3! Second consecutive game for Sutirtha and she has now forced this match to the final game.
02.10 PM: Excellent comeback from Sutirtha! She trailed 1-4 in game 6, took a break and she has since won six points on a trot!
02.04 PM: Sutirtha Mukherjee has made a laudable comeback after a slow start in her match against Linda Bergstroem. She trails 2-3. We're on to game 6.
----
12:58 PM: Manika will face Ukraine's Margaryta Pesotska is next round, whose timing will be announced soon.
12:56 PM: Manika Batra wins in straight sets against Britain's Ho Tin-Tin  11-7, 11-6, 12-10, 11-19 to reach the second round in 28 mins victory.
12:46 PM: Manika clinches the third game as well but this time she was made to work hard as she won it 12-10 after trailing 5-9 at one stage.
12:36 PM: (Table Tennis) Manika Batra is on fire as she won the first two games against her British rival Ho Tin-Tin 11-7, 11-6 in best of seven sets. Manika earlier lost in the mixed doubles finals, along with Sharath Kamal, to World No. 1 pair of Chinese Taipei in straight games.
12:20 PM: (Badminton) Satwiksairaj Rankireddy and Chirag Shetty progress to the second round of men's doubles after beating the Chinese Taipei pair of Yang Lee and Chi-Lin Wang 21-16, 16-21, 27-25.
12:20 PM: (Tennis) Sumit Nagal battles out Denis Istomin in three sets 6-4, 6-7 (6), 6-4,  to reach the second round.
12:14 PM: Disappointing news Gold medal contender Saurabh settles for the seventh spot in men's 10m air pistol final; loses in the elimination battle against Zhang Bowen as his final score reads 137.4.
12:12 PM: Saurabh escapes elimination by edging Korean shooter Mose Kim, who bids adieu.
12:10 PM: Saurabh jumps to the seventh spot with a 96.6 total score after first 10 shots.
12:07 PM: (Shooting) Saurabh Chaudhury is off to not the best of start in the men's individual 10m air pistol final as he is last among the eight shooters with a score of 47.7.
12:03 PM: (Weightliftng) Mirabai scripts history! settles for an Olympic silver medal. In her third attempt to lift 117kgs, the Indian lifter failed while leaving Zhihui a free run for Olympic gold.
11:56 AM: (Weightliftng) Mirabai lifts 115 kgs in her second attempt. Creates Olympic record! Her total now stands at 203kgs (115 + 87 kgs). Zhihui will get to improve the record.
11:53 AM: (Weightliftng) Mirabai lifts 110kgs in clean and jerk composite in her first attempt. Her total now stand at (110 + 87Kgs) 197 kgs (including her snatch result.
11:34 AM: (Tennis) Nagal-Istomin decisive third set is tied at 4-4 with none able to break each other yet.
11:29 AM: (Badminton) Satwik-Chirag loses the second game 16-21 as the match heads into the decider.
11:23 AM: (Badminton) Indian men's doubles pair Satwik-Chirag trails 10-19 to Chinese Taipei in the second game after winning the first 21-16.
11:20 AM: (Archery) Deepika Kumari and Pravin Jadhav lose to South Korean heavyweights An San and Je Deok in mixed event quarter-finals 6-2.
11:08 AM: Hou Zhihui sets Olympic record in the snatch with 94 kgs lift. She already holds the world record at 96kgs.
11:02 AM: Chanu fails to pick 89kgs in snatch in his third attempt. China's Hou Zhihui will now go for 92kgs in her second attempt.
11:01 AM: (Weightlifting) Mirabai Chanu lifts 87kgs in snatch in her second attempt (her personal best is 88kgs).
10:58 AM: (Badminton) India's men's doubles pair Satwiksairaj Rankireddy and Chirag Shetty are currently leading 11-7 in the first game against Chinese Taipei's Yang Lee and Chi-Lin Wang. Meanwhile, B Sai Praneeth loses to Misha Zilberman in straight sets 21-17, 21-15; ends India's medal hopes in men's singles.
10:54 AM: (Weightlifting) India's biggest medal hope on the day, Mirabai Chanu has already begun her campaign with a clean attempt of 84 kg in snatch composite.
10:53 AM: (Badminton) Sai Praneeth in grave danger of elimination as after losing the first game 17-21, the Indian shuttler is trailing the game 9-15 to Israel's Misha Zilberman.
10:48 AM: (Shooting) It's confirmed, Saurabh Chaudhury tops the men's individual 10m air pistol qualification round with a sum of 586. Sadly, however, four poor shots from Abhishek Verma in the closing stages saw him drop to 17th and is out of the final. Chaudhary and remaining top eight will play the final at 12 PM.
10:39 AM: (Tennis) Nagal-Istomin second set goes into the tiebreaker with Istomin slugging it hard to stay in the match.
10:39 AM: Abhishek Verma maintains himself in the qualification zone with the sixth spot at the moment. He currently has 531 points in total with five shots to go.
10:31 AM: (Shooting) Saurabh Chaudhary finishes his 60 shots and is topping the qualification round but China Zhang Bowen in second is yet to finish his 60 shots and could topple Saurabh. That will mean a little as Saurabh is certain to play the final round later today at 12 PM and will be a prime gold medal contender!
10:29 AM: (Tennis) Istomin breaks Nagal to keep himself in the match.
10:28 AM: (Shooting) Abhishek Verma is now also in the qualification zone of the 10m air pistol qualification event as he climbs to 7th spot. Abhishek still has 16 shots left.
10:26 AM: (Tennis) Nagal is now serving for the match with the set reading 5-4.
10:25 AM: (Badminton) B Sai Praneeth plays his first knockout round match against Misha Zilberman in men's singles.
10:21 AM: Guess we jinxed it, Saurabh hits a 9, his total at the moment is 480 and maintains his top spot.
10:19 AM: A trivia for our readers, if Saurabh manages to hit all his remaining 14 shots on 10 then he will match the Olympic qualification round record.
10:17 AM: Saurabh Chaudhury now tops the chart! His average is now a staggering 9.804. And with 14 shots left, his total is 451.
10:15 AM: Saurabh Chaudhary has managed to hit all his last 16 shots in the inner-most circle of the target.
10:13 AM: (Shooting) Saurabh Chaudhary hits a perfect 10 in the fourth series to go second behind Germany's Christian Rietz. It's worth pointing out this is the first perfect 10 shots in a series of the day, Saurabh has really made a strong claim for a medal. 
10:07 AM: (Shooting) Abhishek Verma is improving as well as he has jumped to 14th place. Entering the fourth series, his average per shot has improved to 9.583.
10:05 AM: (Tennis) Nagal lost momentum when Istomin broke him back but the Indian men's tennis No. 1 breaks the Uzbeks again to make it 3-1. However, it is worth noting that Istomin has been playing much better now.
10:04 AM: (Shooting) Saurabh is showing class now as he shots eight perfect 10 shots again in the third series to climb to 5th. 
09:58 AM: (Shooting) Saurabh jumps to the sixth spot at the end of his second series, maintained a strong series of shot with 10's in eight of his 10 shots. 
09:55 AM: (Tennis) Nagal breaks Istomin serve to take 2-0 lead in the second set.
09:50 AM: (Shooting) Saurabh Chaudhary now lies 19th in the individual 10m air pistol qualification round after 20 shots. His total at the moment is 193. Abhishek has also finished first series and is currently 25th.
09:44 AM: (Tennis) Nagal wins the first set over Istomin 6-4 in the men's singles first round.
09:40 AM: To rejig reader's memory, out of the competing 36 shooters, only eight will qualify for the finals with each shooter getting to shoot 60 shots over 6 series with max point available per shoot is 10.
09:37 AM: (Shooting) Saurabh Chaudhary takes lead in men's individual 10m air pistol qualification round. Abhishek Verma is also in the fray for a top 8 spot for the final.
09:25 AM: (Archery) Mixed team pair Deepika Kumari and Pravin Jadhav will face the might of South Korean heavyweights Kim Je Deok and An San at 11:04 AM IST.
09:18 AM: We turn our focus on lawn tennis now where India's sole male representation in Sumit Nagal, who is currently leading 3-2 against Uzbekistan's Denis Istomin.
09:12 AM: Manika Batra/Achanta Sharath Kamal are knocked out of mixed team event of table tennis in straight games to Chinese Taipei. Ju Yun Lin and Ching Cheng defeated the Indian pair 11-8, 11-6, 11-5, 11-4 in the opening round. A big shock for Indian table tennis fans, who expected the star duo to deliver in the event.
09:09 AM: Chinese Taipei pair Ju Yun Lin and Ching Cheng have quickly taken 7-0 lead in the fourth game. A loss in this game means it's over for the Indian pair.
09:08 AM: Manika Batra and Sharath Kamal drop the third game 11-5. They now need to win all of the remaining four games to keep their medal hopes alive. 
09:03 AM: Indian coach Soumyadeep Roy calls for a timeout as Taipei pair is running away with the third game as well 6-3.
08:58 AM: India's medal hopes in TT mixed event under serious threat as Manika and Sharath lost the second set 11-6. 
08:51 AM: Taipei take the first game in the best-of-seven 11-8.
08:49 AM: Taipei fight back to make it 7-5 in their favour.
08:48 AM: Sharath/Manika off to a strong start as they take 1-5 lead in the first game.
08:46 AM: (Table Tennis) Sharath and Manik begin their mixed event match against Chinese Taipei's Ju Yun Lin and Ching Cheng.
08:41 AM: (Judo) India's Judo run ends as Sushila Devi lost to her Eva Csernoviczki. Sushila now will have to wait and see if Eva reaches the final of the competition. If the Hungarian reaches final, the Sushila will have a shot at the bronze medal through the repechage round.
08:39 AM: Also at 8:50 AM badminton men's doubles pair Satwiksairaj Rankireddy and Chirag Shetty will take on Chinese Taipei. 
08:35 AM: Don't go anywhere as plenty of action is coming your way with Indian Judoka will take on Sushila Devi Likmabam will take on Hungary's Eva Csernoviczki in the round of 32 elimination match soon. Also, the table tennis mixed team star Sharath Kamal and Manika Batra will play their pre-quarters match as well.
08.26 AM: (Men's Hockey) India will next face mighty Australian at 3 PM tomorrow. Before that India women's team will take on the Netherlands today at 4:15 PM.
08.26 AM: (Men's Hockey) India save last second penalty corner to beat New Zealand 3-2, takes home valuable 3 points in Pool A.
08.16 AM: Men's Hockey: No advice possible! New Zealand gets another penalty corner.
08:13 AM: Men's Hockey: A very significant video referral for India with little less than 3 minutes left in the game. Defending a penalty corner, the Indian players believe the ball deflected off the stick. The original decision is another penalty corner. 
07.59 AM: Men's Hockey
Drama in the start of the final quarter. There was a video referral from India for a seeming foot on the ball inside the D from New Zealand. However, no clear advice was possible and so, it's a free hit for New Zealand.
07:51 AM: CHINA WIN THE FIRST GOLD! 
China's Yang Qian has won the first gold medal of Tokyo Olympics. She beats ROC's Anastasiia Galashina in the Women's 10m Air Rifle event.
07:49 AM: The third quarter ends with no further addition, India will return in the final quarter 3-2.
07:47 AM: (Hockey) Stephen Jenness brings New Zealand back in the game with a goal. With less than two minutes left in the third quarter, India lead 3-2.
07:44 AM: (Rowing) India finish fifth in lightweight men's double sculls heat of 6 with a timing of 6:40:33 seconds. The duo -- Arjun Lal Jatt and Arvind Sing -- will now compete in repechage round for bronze medal.
07:33 AM: Harmanpreet at it again! The dragflick specialist scores again! India lead 3-1
07:25 AM: The third quarter of India vs New Zealand has started.
07:16 AM: The second quarter ends with India maintaining lead 2-1.
07:11 AM: (Hockey) India scores from the penalty corner through Harmanpreet Singh! India now lead 2-1. Rupinder deserves some credit for the goal too as he was the one to make the video referral as he felt there was a foul by New Zealand defence and he was spot on with his call.
07:05 AM: (Archery) Deepika Kumari expresses disappointment on not playing with husband Atanu Das in the mixed event but said she is desperate for a medal and that is all that matters. Deepika and Pravin earlier defeated Chinese Taipei in the opening round 5-3 after trailing 0-2.
07:00 AM: The second quarter of India vs New Zealand Pool A match is underway.
06:55 AM: The first quarter ends at 1-1. Both the team deserves kudos for playing end-to-end hockey and has been a riveting watch for the viewers.
06:50 AM: New Zealand exerting pressure on India by winning four penalty corners on the trot.
06:44 AM: (Hockey) Rupinder Pal Singh converts the penalty to level the score, five minutes to go in the first quarter.
06:43 AM: (Hockey) Glorious chance for India to make a comeback as Rupinder Pal Singh earns a penalty.
06:39 AM: (Hockey) Manpreet Singh and Co. are in trouble as New Zealand convert their first penalty corner through Kane Russell to take the lead. 10 minutes left in the first quarter.
06:35 AM: (Archery) A look at the performance of Deepika Kumari and Pravin Jadhav during the mixed event round of 16 clash against Chinese Taipei.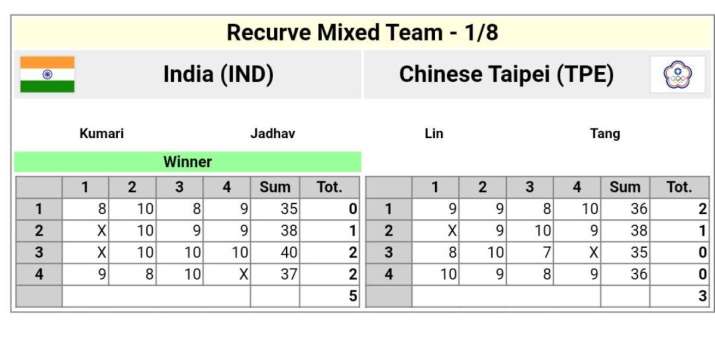 06:32 AM: India miss the first goal by an inch as dragflick specialist Rupinder Pal Singh hits the crossbar from the first penalty corner India won in the first quarter.
06:31 AM: 
06:30 AM: The match is underway. Stay tuned for the Indian lineup for the match.
06:28 AM: (Hockey) India men's hockey team are out to take on New Zealand in their first of Group A match in Tokyo.
06:21 AM: (Shooting) It's official, Both Elavenil and Apurvi are out of medal run in women's individual 10 air rifle event. While the duo needed to finish inside top 8 for the final, World No. 1 Elavenil finished 16th and Apurvi further down at 36th.
06:15 AM: (Archery)  First good news of the day! Deepika and Pravin beat Chinese Taipei 5-3 to reach the quarter-final.
06:11 AM: (Shooting) Disappointing start for shooting contingent as Elavenil (finishes 15th) is out of final qualification while Apurvi is struggling down at 30.
06:10 AM: (Archery) Brilliant comeback by India as both the archers shoot perfect 10 to tie the set 3-3.
06:09 AM: (Archery) At the end of the third set, the scores are tied at 38-38. Deepika has been the more effective of the Indian duo so far with more 10s and Xs but Pravin is catching up.
05:59 AM: Meanwhile Indian archers Deepika Kumari and Pravin Jadhav have taken the stage to compete against Chinese Taipei in the mixed team elimination round.
05:56 AM: Elavenil has shot six of her series 5 shots and except for a 9.7 shot, she has managed all her shots above 10.
05:54 AM: Apurvi has completed her fourth series as well and has moved up to 27th spot with a total score of 416.1.
05:50 AM: Elavenil has shown consistency with her shots. Take a look at all her shots so far today.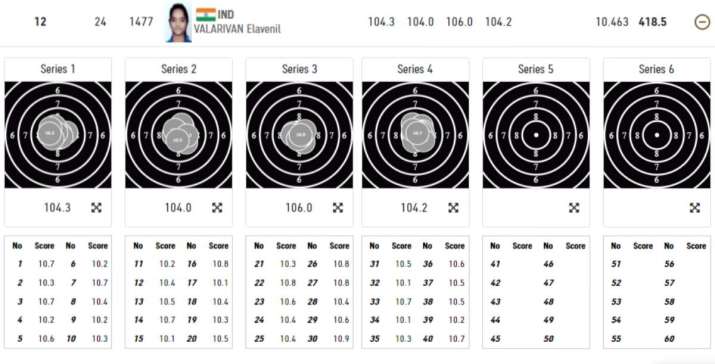 05:46 AM: Elavenil completes her fourth series (40 shots) and her total score stands at 418.5 with 20 shots left. She is currently at the 12th spot.
05:44 AM: Apurvi meanwhile has completed her third series and is currently at the 31st spot.
05:43 AM: The two Indian in the reckoning are experience Apurvi Chandela and young gun Elavenil Valarivan, who is also the current World No.1. Valarivan remains in contention and after shooting a 10.1 in the second shot of her fourth series, she dropped to 12th.
05:40 AM: To quickly update our readers, all competing shooters, in the women's individual 10m air rifle event will get to fire 60 shots in this qualification round with the top 8 qualifying for the final. 
05:37 AM: Elavenil Valarivan moves into top 10 as she starts her fourth series with a 10.5 shot.
The Indian archers didn't have the best of starts as they began their Tokyo Olympics campaign on Friday. In the men's individual ranking round at the Yumenoshima Park as the Indian trio of Atanu Das, Pravin Jadhav and veteran Tarundeep Rai finished in the bottom half.
Earlier in the day, ace archer Deepika Kumari finished a creditable ninth after the women's individual ranking round. The 27-year-old, who bagged three gold medals at the World Cup Stage 3 in Paris last month, will now face Bhutan's Karma in the 1st round of the Women's Individual Recurve Archery event.
Meanwhile, the Indian contingent will hope to come up with better performances on Saturday. The Indian hockey teams (Men's and Women's), Deepika Kumari-Pravin Jadhav duo, Vikash Krishan, Achanta Sharath Kamal and Manika Batra, Mirabai Chanu and Sumit Nagal will be seen in action on Saturday.
The quadrennial showpiece officially opened on Thursday with the toned-down opening ceremony showcasing Japan's culture. Boxer MC Mary Kom and men's hockey team captain Manpreet Singh led the contingent as 19 Indian athletes participated in the ceremony. India has a 228-strong delegation in Tokyo, including over 120 athletes.
"Today, the Olympic athletes are sending a resounding message of hope to our fragile world. The Opening Ceremony will highlight this Olympic message of resilience, solidarity and unity of all humankind in overcoming the pandemic," IOC president Thomas Bach said in his speech. 
The Tokyo Olympics, delayed for a year by the pandemic, were officially declared open by Japan's Emperor Naruhito. In the end, tennis star Naomi Osaka has lit the cauldron that sat atop a peak inspired by Mount Fuji.