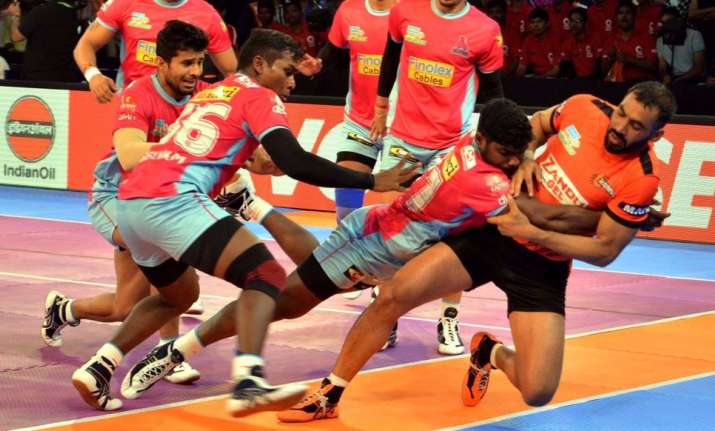 Jaipur Pink Panthers beat U Mumba 39-36 to register their fourth victory of the ongoing Pro Kabaddi League (PKL) match, here today.  Jasvir Singh scored 10 and Pawan Kumar scored nine points to lead their team to victory. 
For U Mumba Anup Kumar had a disappointing game. This was Jaipur's fourth victory of the season and they now have 22 points from six games. 
U Mumba crashed to their fourth defeat of the season and have 17 points from seven games. U Mumba scored two points in the first three minutes to lead 2-0.  Jaipur Pink Panthers defence did the scoring in the initial minutes as they led 4-3 after five minutes. 
Pawan Kumar scored with a two-point raid in the seventh minute to lead 7-3. Kuldeep Singh scored with a three-point raid in the eighth minute as U Mumba trailed 6-7. 
It was a close game for the first 10 minutes as both teams were tied at 8-8.  In the 12th minute, Jaipur Pink Panthers inflicted an all out to lead 13-8. Jasvir Singh scored with a three-point raid as Jaipur led 18-9 after 16 minutes. 
Jaipur Pink Panthers were relentless in the first half as they went into the break leading 24-14. For U Mumba Anup Kumar had a quiet game and his team wasn't strong enough to cope up with Jaipur's attack. 
Anup Kumar scored with a raid point in the first minute of the second half but Pawan Kumar scored two points as Jaipur led 26-14 after 21 minutes. 
Jaipur inflicted an all out in the 26th minute to lead 35-19. U Mumba were looking down and out and had no answer to Jaipur's aggression. 
Jaipur Pink Panthers were relentless for the entire match and didn't let U Mumba a chance throughout for 30 minutes. U Mumba tried to make a comeback in the last five minutes as they inflicted an all out in the 36th minute as they trailed 30-38. 
U Mumba scored four points in the next two minutes as they trailed 34-38 in the 38th minute with Darshan Kadian scoring a raid point. Jaipur survived a late onslaught to win 39-36.