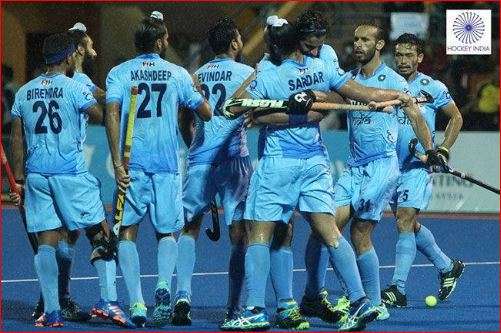 In an exciting finish, the Indian hockey team beat South Korea 5-4 in the penalty shootout to enter the final of the 2016 Asian Champions Trophy. 
At the end of the full time, the score of the two teams was tied at 2-2.
During the penalty shootout, the Indian team held its nerve and clinched the match 5-4 to enter the final. 
 Earlier, Talwinder Singh gave India lead with a goal in the 15th minute but Inwoo Seo equalised for South Korea in the 21st minute.
At one time, it appeared as if the two teams would end full time at 1-1. However, Jihun Yang scored the all important goal for South Korea in the 53rd minute.
South Korea had to protect their goal for just seven minutes, but two minutes later, Ramandeep Singh, struck a goal and got back India into the match.
Even in the penalty shootout, the two teams were tied at 4-4 after the fourth round.
In fifth round, India inched ahead with 5-4 and after that captain PR Sreejesh carried off a brilliant save and helped India win the match.
India will play either Malaysia or Pakistan in the final on Sunday.