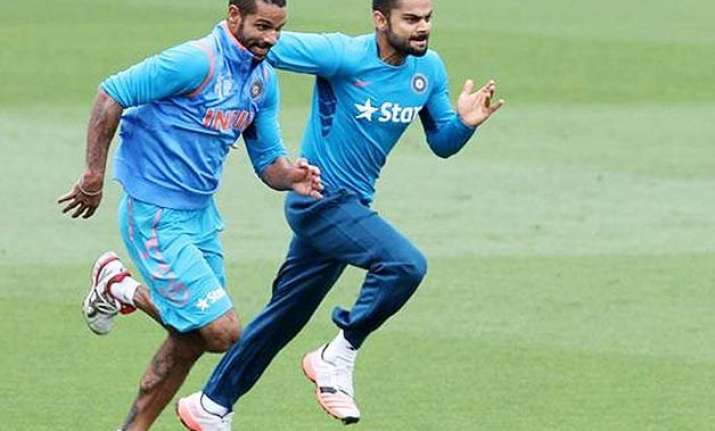 Melbourne: The Indian cricket team began preparations for their quarter-final clash against Bangladesh on Thursday with a light training session here on Tuesday.
The players started their drills with a few warm-up exercises and jogs around the field. The sun wasn't beating hard here at the Melbourne Cricket Ground (MCG). Instead there was a gush of wind, a few drops of rain and a chill in the air.
There were no batting workouts as the centre wicket at the MCG and the nets outdoors were covered owing to a slight drizzle.
Instead the team had a round of fielding sessions wherein the players took turns in holding on to high catches hurled up in the sky by Raghavindraa, one of the team's support staff who throws down cricket balls at the batsmen for long hours tirelessly.
He was vested the responsibility of giving the team high catches with a unique looking bat that was trimmed down from the sides leaving only the middle in focus.
That, according to the team management is a bat which is occasionally used by batsmen during their batting drills to gauge how well and often they find the middle of the bat.
Interestingly, it was used for giving the team high catches this noon.
The ball went soaring high and credit to the fielders, they held on to most of them which was applauded by the team members.
After a while, the team lined themselves up for a game of football which has been quite a norm in most practice drills.
The team looked in good spirits and are expected to be back on the ground early in the morning on the eve of their quarter-final clash against Bangladesh on Thursday at the MCG.