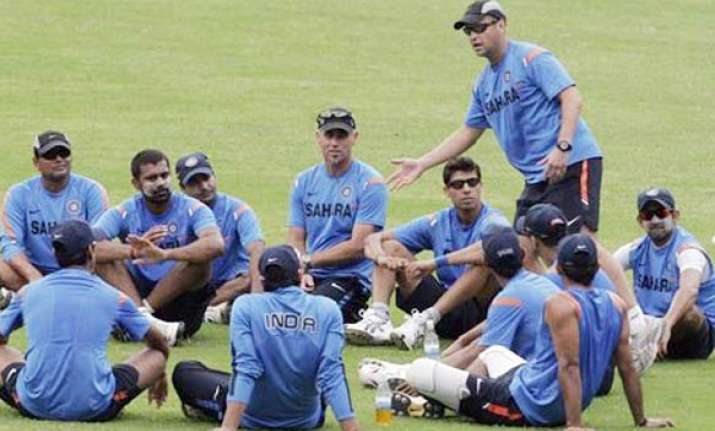 Mumbai, Feb 12: The Indian cricket board has taken a personal accident policy worth $500,000 per player who is a part of the national team that will play in the World Cup, reports Times of India.  
The BCCI has also taken another insurance policy to the tune of Rs 130 crore, which will shield it from financial losses in the event of a match being affected by bad weather.  
Reena Bhatnagar, deputy general manager, Oriental Insurance Company, said, "The BCCI has bought the group personal accident policy from OIC. Each player can expect a financial benefit of up to Rs 2.3 crore under this policy."  
The group insurance policy will be in force for two months between February 10 and April 9. "The policy can be invoked in case of death or total disability, permanent partial disability and temporary total disability to a player or a support staff member. The policy holders will be paid the monetary compensation for injuries that are sustained on and off the field during this 2-month period," said Leander Dias, an official from OIC.  
The policy can also be invoked if a player or support staff member becomes a victim or sustains injury due a terror attack. An overseas mediclaim policy has also been bought for the team. "The board can expect reimbursement of hospitalization expenses on the treatment of players," Dias said.
"The policy has been provided as per the International Cricket Council's guidelines."  
The board has also purchased another special contingency policy for event cancellation at a cost of Rs 1 crore. This policy will protect the board against any financial losses owing to the cancellation of matches due to bad weather. An official from the National Insurance Company said, "This policy can be invoked only if the match is cancelled without a single ball being bowled. It can be due to bad light, rains or even an earthquake. If a single ball is bowled before the match is called off, no compensation can be claimed by the board."  
Each match has been insured at a differential amount under the weather related policy. "The minimum and maximum benefit derived under this policy ranges from Rs 2.5 crore to Rs 15 crore. Matches involving a lesser degree of popularity can expect low benefit. Matches involving India, the semifinals and the final are of high value, hence they command higher benefit."  
Non-appearance of teams on a match-day has been covered under this policy, said the official. ESPN, the official broadcaster for the tournament, has already bought a Rs 600 crore insurance cover.  
The board is likely to finalize the policy within a few days as negotiations are underway.  
The BCCI first took out an insurance policy for the team in 1993. For the 1996 World Cup, the board had taken a policy worth Rs 10 lakh per player.  
The group insurance policy will be in force for two months between February 10 and April 9.