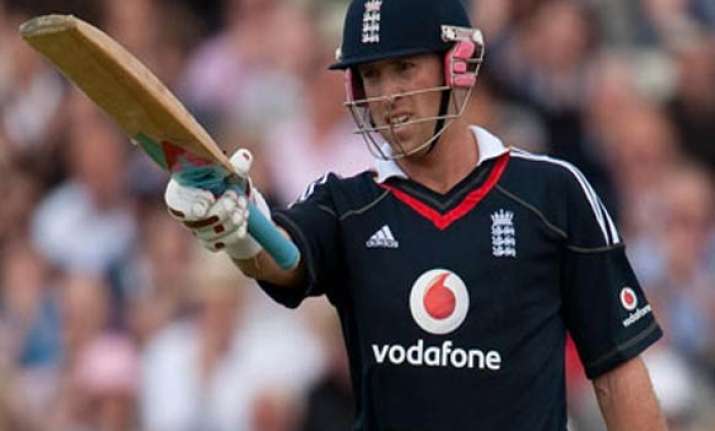 Nagpur, Feb 20 Matt Prior has had to give up on his opening slot due to Kevin Pietersen's elevation in the England batting line-up but the wicketkeeper is not complaining as he feels it is a "positive move" to send his aggressive teammate up the order.
 "It's a positive move. Wickets in the sub-continent would suit him. If KP is up and running, he can take the game away from any opposition. If he can bat for 30 overs, he will score big and the team's score will be even bigger," Prior told reporters during an interaction at the team hotel today.
England will take on Netherlands in their opening group encounter here on Tuesday.
 As far as Prior's own batting slot is concerned, he said, "From my point also, it is a positive move. I love playing the spinners and I love batting in the middle overs. It wasn't the case that I wasn't good enough to open. Middle overs will be very important in the World Cup and I am comfortable in my new role. I have been in good nick."
 However, the soon-to-be 29 glovesman reiterated that he was comfortable even while opening but "just didn't get those scores away which has been frustrating. I still believe that I can do a good job if I again open the innings."
  "The frustration for me was getting out on 67 vs Australia (in Adelaide, the only ODI England won Down Under). I was playing well and could've got a big score. If you got a big 130 or something like that and then suddenly those two nought (in Hobart and Sydney) prior to the half century would have become irrelevant. When you get in you got to make sure you play that innings that wins the game," he added.
 Although he is coming down the order to accommodate Pietersen, Prior is being seen as someone who would be doing what Eoin Morgan has done for England. To keep up the tempo and finish games.
      "I have told other guys that it scares me. There is a lot of responsibility of finishing games. I don't think anyone can replace Eoin Morgan. He has been a phenomenal player for England at that time. But I will certainly give it a good go. I enjoy the new responsibility of trying to finish or set-up games."  
Prior feels that the 1-6 drubbing at the hands of Australia a few weeks ago will be of little consequence during
the World Cup.
  "World Cup is about peaking at the right time. It's a new competition and it will be silly to look at the Australia
series. Australia series means nothing."
Although they registered contrasting victories in the warm-up games, Prior feels that England's win against Pakistan will do their confidence a world of good.
  "Pakistan was a huge game. We played the brand of cricket that England is known for. Getting a good score and then bowling and fielding well. Actually the match against Canada helped us remove our cobwebs a bit."
   Coming from Down Under where it was easier to keep wickets with good bounce and carry on the strip, Prior, who has played 40 Tests and 61 ODIs, admitted that donning the big gloves will be an onerous task for the next one month.
 "Gone are the days of bounce and carry in Australia. Here you have to be quick on your feet. I am standing up tospinners as well as seamers."
    When asked whether he would consider the option of standing upto James Anderson, he replied, "It depends on surface. I wouldn't like to stand upto Jimmy on a green surface. But some of these wickets are slower and may take grip. So that's an option." The glovesman stressed on the need to get a good start
and that is why England are not taking the opening match against The Netherlands lightly."I have played a lot of county cricket with Ba Zuiderrent (opposition vice-captain) and against Ryan ten Doeschate. We can't take them lightly. We have to treat the as any other team."
 Prior is certainly excited at the prospect of playing in front of huge crowd.  "Sub-continent is a special place to play cricket. People come in thousands to support their teams. Atmosphere at the ground will be pretty electric." PTI