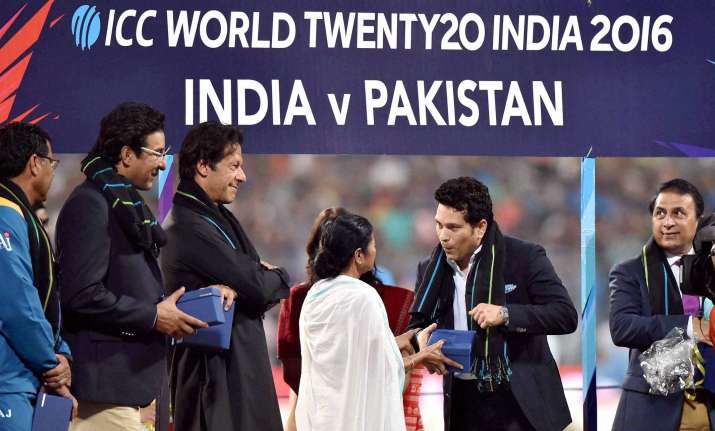 Kolkata:  Life in India and Pakistan has come to a grinding halt as the two arch rivals square off at Kolkata's Eden Gardens in the ongoing World T20 tournament. While anticipation is high over the outcome of the match (the rains added to the anxiety), Eden Gardens witnessed scenes that were reminiscent of the days when the 'God of Cricket' ruled the pitch.
Regardless of his retirement from cricket, Sachin Tendulkar's popularity shows he still rules the hearts of the billion plus cricket fans in India. And the 'Sachin' phenomenon was on full display today at a   packed-to-capacity stadium.
Sachin Tendulkar, who was today felicitated alongside other prominent personalities ahead of the World twenty20 game, was greeted by the crowd with the roaring chants of 'Sachin Sachin'.
While the crowd cheered every time the host announced the names, the loudest roar was for Tendulkar. As soon as his name was announced, the entire stadium reverberated with chants of "Sachin Sachin..."
It was a throwback to the past, when the ever-popular Tendulkar had wielded the willow in style before euphoric large crowds, many of whom used to come to the historic venue only to see him in action on the 22 yards.
"Nice to see the stalwarts from Pakistan, we welcome them here ... we hope for a fantastic match, let's enjoy cricket above all," said Tendulkar during the ceremony.
Others who were felicitated were Pakistani stalwarts Imran Khan, Wasim Akram, Waqar Younis, Indians Sunil Gavaskar, Virender Sehwag. Megastar Amitabh Bachchan and his actor-son Abhishek.
All of them were given a medal, a crystal pigeon as a memento and flower bouquet by West Bengal Chief Minister Mamata Banerjee.
Imran seemed overwhelmed by the occasion.
"On behalf of the Pakistan team I thank the people of Kolkata for this warm welcome," the 1992 World Cup winning captain, regarded as one of the best all-rounders ever, said.
"Hope it will be a great match but the result I hope is the same when I played here the last time," said Imran, referring to the Nehru Cup final of 1989 which Pakistan had won under his captaincy by humbling the West Indies.
Banerjee made a faux pas when she referred to the ICC (International Cricket Council) as ICCI.
She assured of full security for the finals, wishing more such matches were staged here.
Amitabh, in his brief speech said: "May peace prevail between Pakistan and India".
He also thanked Banerjee for his choice of the crystal pigeon—a bird considered as the symbol fo peace—as memento.
(With IANS inputs)