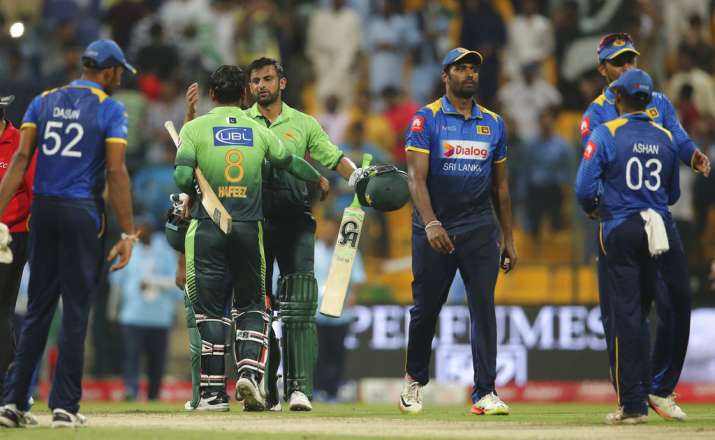 Legendary Imran Khan and Javed Miandad have described Sri Lankan team's visit to Lahore to play a T20 international today as a good sign for the return of international cricket to Pakistan. 
"I am very happy to see that the Sri Lankan team is in Lahore and will play today at the Gaddafi stadium. Their visit is very important for our cricket and hopefully it will now lead to more teams coming to Pakistan," Imran told a television channel. 
Sri Lanka became the first top international cricket team to tour Pakistan in eight years when they reached Lahore last night from Abu Dhabi. 
It was an attack on the Sri Lankan team by militants in March, 2009 that led to Pakistan being isolated as an international cricket venue for eight long years. 
Former captain and 1992 World Cup hero Imran, who is now a leading politician, normally does not see eye to eye with Pakistan Cricket Board chairman Najam Sethi and has been critical about him. 
But Imran said the cricket board deserved appreciation for getting the Sri Lankans to play in Lahore. 
"What happened in 2009 was very sad and bad for Pakistan cricket. It hurt our cricket and young players a lot. But now things seem to be moving in the right direction and today our people can show everyone they are a peace-loving nation who enjoys cricket," the former captain said. 
Another former captain Javed Miandad also appreciated the efforts of the PCB to bring a top test team to Lahore. 
"This visit by the Sri Lankans will do a lot of good for Pakistan cricket. I think the doors to international cricket in Pakistan will now open up soon," Miandad said. 
He said that the Sri Lankan government, their cricket board (SLC) and players had shown they were true friends of Pakistan by agreeing to play the match in Lahore. 
"I know it must have not been easy for them after what happened eight years back with them. I can understand if some of their players have pulled out. But the important thing is Sri Lanka is here," Miandad told PTI. 
Former Pakistan captain and fast bowling great Wasim Akram said he was very happy for the young players of the country. 
"We were fortunate we played a lot of cricket in front of our people but I always felt bad for the current lot of players many of whom never got a chance to play on their own grounds before their own crowds. Thankfully that is now changing," he said.