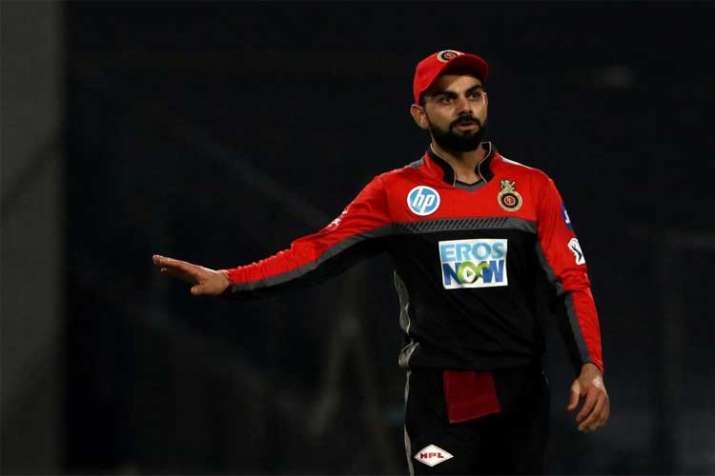 Royal Challengers Bangalore captain Virat Kohli looked dejected and angry after his team lost its third match in the ongoing 11th season of the Indian Premier League. The Kohli-led RCB went down against Mumbai Indians on Tuesday at the Wankhede Stadium in spite of a brilliant performance from the skipper himself. (MI VS RCB: WATCH HIGHLIGHTS)
Kohli struck an unbeaten 92 and became IPL's leading run-scorer, overtaking Suresh Raina, but was unable to see RCB over the finish line. The result meant that RCB, with three loses in four games, stay at the bottom half of the points table. (FULL IPL 2018 COVERAGE)
Kohli was dejected and angry and he made no bones about it after the match got over, slamming his players for throwing the match away.
With 10 more games left for RCB in the league stage, Kohli on Wednesday told IndiaTV that he would cover any distance for his team to win.
In an exclusive interview, Kohli said he is currently not in a position to fret over his batting position and is ready to bat at a slot which is best suited to the team's requirements.
"I am not at that stage now where I can think about my batting slot. Wherever the team needs me to play, whatever the management decides, I react accordingly. I am ready to do anything for the team. This a tactical and collective decision of the management to decide who will bat at what position," Kohli told IndiaTV.
On being asked what RCB need to do to get back to winning ways, the 29-year-old said there's no secret to it and every player needs to execute the plans.
"There needs to be a collective effort to win any game - batting, bowling and fielding and also the mindset. I think there's no secret to winning games, nothing special. If all of us play to our ability and execute our plans, our team will win. We won't win when we don't do these things. The other team has also come to win and if they execute their plans better than you then they will win the game," he said.
"I think we should accept this fact and move forward... staying positive and relax is very important," he added.
Kohli, who led India to the top of Test and ODI rankings, said he never thought he would one day lead the national cricket team when he made his debut in 2008. Kohli said he was privileged to be the captain of the Indian cricket team.
"10 years back in 2008 when I made my debut, I never thought I would captain India... I still remember those days. I am very grateful to God for giving me so much, for giving me this privilege," he said.
Meanwhile, Kohli's RCB teammate and South African star AB de Villiers said it was special for him to play alongside his "great friend" Kohli.
Talking about their relationship, de Villiers said: "I am the man and he's the lady in our relationship... laughs... just kidding. We've got a great relationship... we have become great friends which much more special than playing together and I've learnt a lot from him. I would like to think he has also learnt one or two things from me. It's just a great privilege to play together and hopefully we'll win many games this season together," he said.