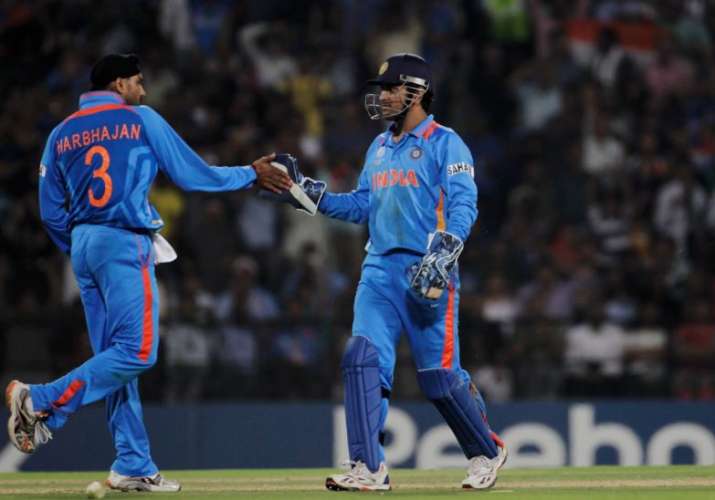 After spending a decade with Mumbai Indians and winning the Indian Premier League thrice, spinner Harbhajan Singh basks on a new adventure as he reunites with former Team India skipper MS Dhoni in Chennai Super Kings. The ' Turbinator' was bought by the yellow brigade in the IPL 2018 auctions and will be sporting the yellow jersey in the 11th edition of the league. 
CSK, who were banned for two-years, make their return in the IPL as the MS Dhoni-led team will aim for glory once again and it is Harbhajan who plans on clinching the trophy with the yellow brigade.
"It's always a great feeling to play along with MS Dhoni. I'm looking forward to working with him again towards a common goal – this time to win the trophy for the Chennai Super Kings," Harbhajan Singh told CSK's media team. 
Harbhajan, who has collected 127 wickets in the 136 matches he has played in the Indian T20 league, lauds Dhoni as a captain and says that the 36-year old is 'street smart'. 
"He (Dhoni) understands the game really well, is street-smart and thinks ahead of the game and I feel that's very important for a captain, especially in T20. That's what makes him a great skipper." 
Dhoni, who returns to Chennai after a two-year stint with Rising Pune Supergiants, will take charge once again as he was the first player to be retained by the Chennai Super Kings in the IPL 2018 retention along with swashbuckler Suresh Raina and all-rounder Ravindra Jadeja. 
Harbhajan has been quite a charismatic player in the Indian Premier League so far but now the all-rounder in all seriousness aims to win the IPL 2018 with the yellow brigade.
"It's great to be a part of two strong teams. 10 years with Mumbai Indians was absolutely brilliant, and now to be a part of another brilliant team. Here I come, Chennai! Let's do it together for Yellow," he further said. 
On being asked about Chennai Super Kings facing Mumbai Indians in the opening match on April 7, Harbhajan feels that both teams will give their all in order to come out on top as the rivalry has always been intense and so has the pressure during the fixture.
"CSK versus Mumbai Indians – two top teams – was always a pressure game. No matter how bad the situation, both would continue to fight till the end and create chances. That's how champion teams play, with a lot of passion and pride," he signed off.