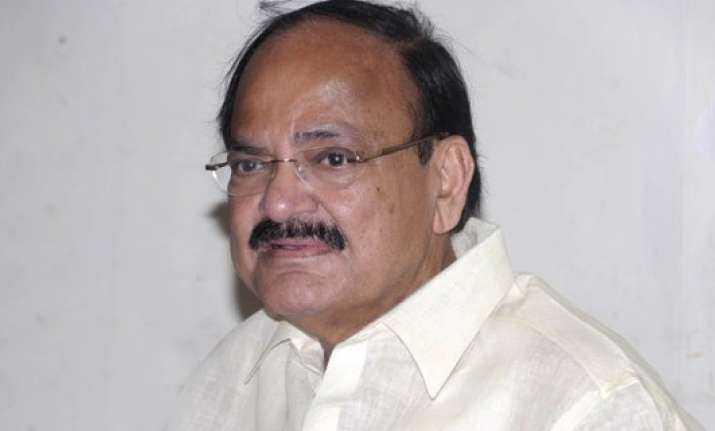 Tirupati/Chennai: Union Minister M Venkaiah Naidu today reacted sharply to the remark of a Pakistan MP against Prime Minister Narendra Modi, saying he had no moral right to criticise India or its PM as his country has been abetting terrorism and sheltering terrorists.
"The parliamentarian from Pakistan, which has been abetting terrorism, sheltering terrorists and disturbing peace in India by encouraging cross-border terrorism, has no moral right to criticize India or its Prime Minister," he told reporters here.
Awais Khan Leghari, heading a parliamentarian delegation to a Track 2 dialouge process and its co-chairman, had yesterday suggested that Modi show "statesmanship" to resolve the issue between the two countries.
He had also claimed India did not "properly reciprocate" the gesture shown by Pakistani Prime Minister Nawaz Sharif by attending the swearing-in ceremony of Modi.
Naidu dismissed Leghari's remarks and sought to know the meaning of talks when they do not stop terrorists from continuing attacks and killing innocents in the sub-continent.  They had also tried their best to thwart the poll process by intensifying cross-border terror attacks in J&K, he said.
On the 'smart city project', he said a meeting of chairman of all municipalities and corporations and state ministers concerned with his ministry would be held in one place or at select places (regional level) to ascertain their views.
As it required Rs 45 lakh crore investment, there was no option but to go in for Private Public Partnership for its completion, he said and urged private agencies like CII to take the plunge to help the government accomplish the task.
On the furore over religion conversion, he said government was ready for a debate and favoured a law banning it. But the opposition Congress and others were only keen on creating an issue on that, forgetting that similar laws were there in Madhya Pradesh, Chattisgarh, Himachal Pradesh and Arunachal Pradesh.
On the ISIS operative's arrest in Bangalore, he said the union government was keeping a close watch and there has to be increased alert. "The ISIS is a threat to humanity," he said.
On the standoff between BJP and West Bengal CM Mamata Banerjee and her charge that CBI was misused against her party leaders in connection with the Saradha scam, Naidu pointed out that the case was filed when UPA was in power.
"There is no question of misuing CBI at all. The Modi government believes in the spirit of federalism and will not harass political oppoinents in such a way," he said.
Banerjee, who was instrumental in ending the decades-long Left rule in West Bengal, should have herself acted against her party colleagues, accused by CBI in the scam, he said.
Earlier, addressing a Rotary international meeting here, he spoke on swach bharat campaign, saying it was NDA government's way of paying tribute to Mahatma Gandhi as he was a proponent of cleanliness.