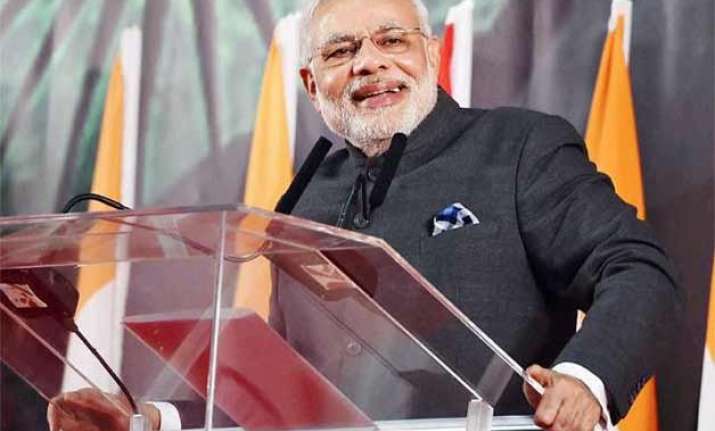 Narendra Modi came to the office with a landslide victory in Lok Sabha elections 2014 .
 
As Modi govt completes its first year in power, we bring to you the top ten points that London weekly 'The Economists' has written about PM in its latest issue as part of its cover story titled- India's One-man band :
 
PM Modi has been promising of "Ache Din" (Good days) but his progress has been really slow. He concentrated maximum power in his own hands, but the task is just too much for two hands of Modi.
 
PM Modi has taken Indian Economy to a new level. Inflation is down, low interest rates, rupee is stable, and fiscal and current-account deficits have gone down as well. With current growth rate of 7.5%, India is set to surpass China to become fastest growing economy by 2015-16.
PM also laid his emphasis on the increasing Foreign Direct Investment (FDI) particularly in the areas of railways, insurance and defence. This could help in creating a friendlier business climate and poor people will get benefit of employment opportunities.
Pradhan Mantri Jan Dhan Yojana have inspired people to open 150 million new bank accounts. It links to a biometric database of 850 million people so far, the government is creating a structure to provide better poverty relief.
After 2014, Narendra Modi seems to have been losing his popularity and the complete washout in Delhi Elections is a big example. Some people dislike his foreign diplomacy after touring 18 countries over the past year.
Modi is not a one man army and he should not think he can bring the change alone. He needs the support of states, other national politicians and the Indian market.
Modi govt should bring in more capable leaders to strengthen especially the finance ministry and the corporate-affairs ministry. He could also compromise with his opponent party and make the buying of land simpler.
Taking the market as agents of change, Modi-led national campaign to ease the world's worst labour laws would be a great step and restrictions on domestic trade in farm produce should go.
Private companies can make railways more efficient and better law on acquiring land can lead to faster infrastructure. Also the foreign investment on India's woefully bad education system needs to be kept in focus.
Finally Prime Minister Narendra Modi should now stop thinking like a chief minister of Gujarat. He should realise he is a national leader with an aim to make India rich and strong.