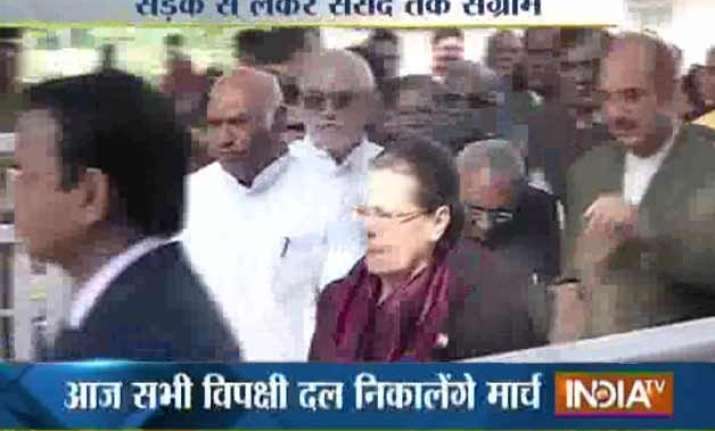 New Delhi: Congress president Sonia Gandhi will today lead a march of opposition parties from Vijay Chowk to Rashtrapati Bhavan to lodge strong protest against contentious Land Acquisition Bill.
Sonia will be joined by former Prime Minister Manmohan Singh and top leaders of at least ten parties.
Former prime minister and JDS chief HD Devegowda, CPI-M's Sitaram Yechury, CPI's D Raja, Trinamool Congress leader Dinesh Trivedi, SP's Ramgopal Yadav, DMK's Kanimozhi, INLD's Dushyant Chautala and RJD's Prem Chand Gupta are expected to participate in the march.
The delegation will also submit a memorandum to President Pranab Mukherjee against what they think is an 'anti-farmer' bill.
Sources in the Opposition said that Congress is playing a key role in the protest including the finalization of the draft of the memorandum.
Participation of Sonia in the march is significant as neither she nor Congress vice-president Rahul Gandhi on sabbatical, was present at the Jantar Mantar yesterday when Congress workers had protested against Land Bill.
The Congress president, according to sources, took keen interest in the march against the legislation.
Yesterday, she spent time talking to Opposition leaders in Central Hall of Parliament to personally ensure their participation. Sonia's political advisor Ahmed Patel and leader of opposition in the Rajya Sabha, Ghulam Nabi Azad, also reached out to opposition leaders.
Manmohan Singh's attending the event is also significant as it comes days after the Congress chief led a march from party headquarters to the former Prime Minister's residence to express solidarity after Singh was summoned in a coal scam case.
Congress fielding Singh along with Sonia in the march is another attempt by the party to show that it is rallying strongly behind the former Prime Minister.