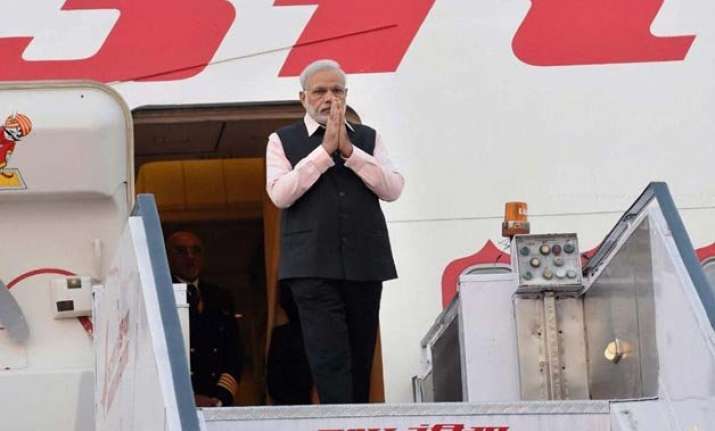 New Delhi: Prime Minister Narendra Modi's will today leave for China at 11:30 pm.
Modi, during his maiden trip to China as PM, is expected to touch complex issues of mutual interest and significance to both nations.
The Prime Minister will also make a push for larger Chinese investments in India.
Here goes the full schedule of Prime Minister Narendra Modi's China Visit:
May 13
11:30 pm: PM Modi will leave for China
May 14
5 am: PM Modi will arrive in Shaanxi province capital Xian
10:30 am: Modi will visit Terra Cotta Warriors
In afternoon, the visiting dignitary and Chinese President Xi Jinping will hold summit talks.
Later, Modi will visit Giant Wild Goose Pagoda or Big Wild Goose Pagoda, a Buddhist pagoda located in southern Xi'an
In night, he will leave for Beijing
May 15
7:30 am: The Prime Minister will go to Great Hall of the People.
7:45 am: PM Modi will receive formal welcome
8 am: Modi will hold summit talks with his Chinese counterpart Li Keqiang
8:30 am: Delegation level talks will begin.
9:30 am: The two Premiers will hold joint press conference
1:30 pm: दोपहर 1.30 बजे शिंगवा यूनिवर्सिटी जाएंगे
2:45 pm: Modi and Li will together witness a unique joint demonstration of yoga and Chinese Tai Chi 'moving meditation' exercises at the iconic Temple Of Heaven in Beijing that was constructed in 1420.
6:10 pm: PM Modi will arrive in Shanghai
May 16
7 am: Modi will meet Chinese CEOs
8:15 am: Modi will chair meeting with leaders from Shanghai
12 noon: He will visit Fudan University
In afternoon, he will open a Centre for Gandhian Studies and Indian Studies
3:30 pm: The PM will meet Indian Diaspora
In evening, he will return to Shanghai