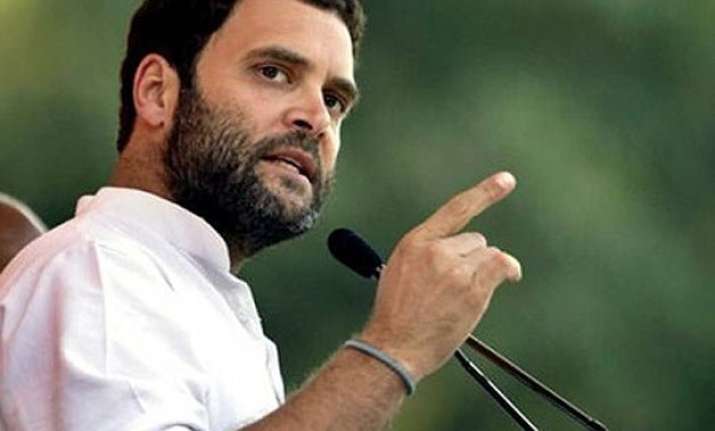 New Delhi:  Rahul Gandhi, back from his nearly two-month long sabbatical, will hold intensive consultations with farmers tomorrow as he is expected to lead the Congress' charge on the land bill issue against the government with the Kisan rally on Sunday.  
The rally is being seen as some sort of a relaunch of Rahul, who is being hailed as a "mature" leader who would restore the party's health after its downturn in Lok Sabha polls.
A senior party functionary said that besides the rally, Rahul will also be speaking in the Lok Sabha and is expected to take on the government after the second part of the Budget session begins on Monday.
Congress President and his mother Sonia Gandhi and sister Priyanka Gandhi, who had welcomed him at his residence yesterday, went to meet him again and spent close to two hours there.
With the Sunday rally being the first major public outreach event for the Congress Vice President after his leave, the party is pulling out all stops to galvanise support for the rally.
Top leaders Ahmed Patel, Digvijay Singh and others addressed a meeting of Haryana Congress leaders in North Avenue, while Singh, who is also the convener of the committee to chalk out plans for the rally, brainstromed with AICC secretaries at party headquarters to make the rally a success.  
Rahul, who has to speak at the farmers's rally on Sunday, did not attend the meeting. Party spokesperson Anand Sharma, however, said that the Congress Vice President was not expected at the meeting as it was convened by a general secretary of the party for secretaries to work out the rally arrangements.
Indicating that a generational change could happen in the party, Singh told the audience that he, Ahmed Patel and many leaders were made PCC chiefs at very young age of 38 and 33 and "now it is time for the youngsters".  
"It is the era of youths. Time for our retirement has come. It is the nature's law. Old leaves ripen and then fall.  New leaves then come. Youth is the flavour of the season. The leadership of youths will come and lead the country.  
"Our success is in the success of Sonia Gandhi and Rahul Gandhi. All party workers are fighting under the leadership of Sonia and Rahul," Singh said.
Sources said that Rahul will meet the farmers tomorrow in two groups. After holding a thorough discussion with a group of two dozen farmers' representatives, Gandhi will interact with a larger group and seek their views on the changes being brought in the UPA's land law by the Narendra Modi government. 
The delegation will include farmers from Bhatta Parsaul village from where Rahul had launched a "padyatra" in 2011 against forcible land acquisition of farmers, a protest that had culminated in passage of Right to Fair Compensation and Transparency in Land Acquisition, Rehabilitation and Resettlement Act, 2013.
Gandhi will be accompanied by some senior Congress leaders including Singh and former Rural Development Minister Jairam Ramesh, when members of various farmer organisations from states like UP, Haryana, Rajasthan, Punjab and Madhya Pradesh will meet him.
Congress is hoping to rally around people from various parts of the country with the 'Chalo Dilli Chale' slogan which will be seen on hoardings and heard on FM radio channels on which it has booked spots.
A 17-coach 'Kisan Express' train carrying farmers will leave from Jaipur and arrive at Delhi after six stops on the rally day. State leaders have been directed to ensure that the rally has full attendance.
At the meeting with Haryana leaders, Digvijay Singh launched a strong attack on Prime Minister Narendra Modi, RSS, and BJP.
"The country is under the rule of a person who is a big liar. BJP is originally anti-farmer. I want to ask who had gone to fight for farmer in Champaran—Mahatama Gandhi or M S Golwalkar. Who had gone to fight for farmers in Bardoli in Gujarat---Sardar Patel or K B Hedgewar," he alleged. 
Both Golwalkar and Hedgewar are RSS icons.  "This rally is to puncture the arrogance of the government," Ahmed Patel said, adding that the Congress will have to ensure that the NDA's land law does not pass.