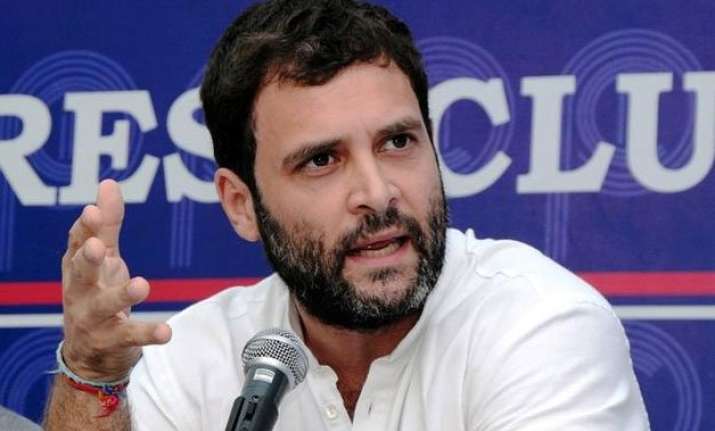 New Delhi: The process of the much-delayed organizational elections in Congress could get a fillip after the return of party vice president Rahul Gandhi from Europe next week amid indications that his much talked elevation could happen soon.
According to PTI sources, Rahul, who on December 27 took to Twitter to announce that he will be travelling to Europe, could be back any time after January 8 following which a meeting of Congress Working Committee may also happen.
"Rahul is ready to take on the mantle. It is wrong to say that he does not want to become president. There is also no truth in suggestions that Rahul may wait till the completion of assembly polls in Assam before he is elevated as Congress president," a party functionary said on the condition of anonymity.
The leader felt that the elevation of Rahul should be happening sooner than later but refused to attach a time line.
Congress president Sonia Gandhi had responded by saying 'ask him' when reporters queried her on Rahul's elevation as president in the party some days back at a Foundation Day function.
Sonia to take final call: Digvijaya
Senior party leader Digvijaya Singh had said a few months back that the Congress workers wanted the elevation to happen soon but the decision can be taken only by the Congress president.
A section of leaders in party also believe that Rahul should have agreed for an elevation long-time back.
A meeting of the Congress Working Committee in September last year decided to extend the deadline of the completion of party's internal polls for one more year till 2016. This led to a speculation that Rahul's elevation has been advanced for one more year.
The party, however, later indicated that the Rahul could be given the responsibility even earlier and the one year extension is only the upper limit for completing internal polls. Sonia's latest term comes to an end in December this year.
The organizational polls held after five years culminate in the election of the new party president.
Sonia, who took over as Congress chief in May 1998, is already the longest serving president of the 129-year-old party. Rahul became vice president in January 2013.
(With Agency Inputs)