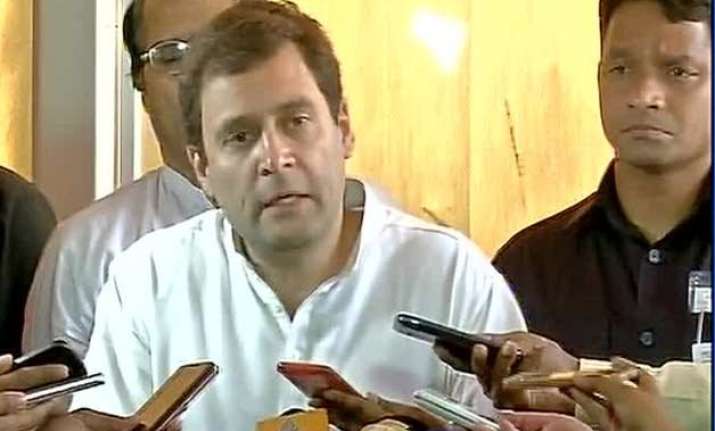 New Delhi: Congress Vice President Rahul Gandhi today demanded the rollback of government's proposal to tax employee provident fund withdrawals.
"People work all their lives, and EPF is the safety net for them, and to destroy that safety net is not something that the government should do. I would request the prime minister to take back the tax on the EPF," he said.
Taking potshots again at Government's proposed amnesty scheme on black money, Gandhi said "Yesterday, I mentioned about the Fair and Lovely scheme in Parliament, where thieves and people who have stolen money are being allowed to change their black money to white. We have our views about the scheme."
Picking on the one-time compliance window announced in the Budget as a "Fair and Lovely" scheme, Gandhi had yesterday said this was nothing but a move to turn the black money into white.
"The Finance Minister has announced a new scheme-Fair and Lovely scheme. In this scheme, any thief of the country can convert his black money into white. If anyone indulges in corruption, he can convert his black money into white using the Fair and Lovely scheme," Gandhi had said.
Finance Minister Arun Jaitley in his 2016-17 Budget speech has proposed that 60 per cent of withdrawal from contribution to EPF made after April 1 this year will be subject to tax.
A government press note later said a proposal to tax only interest and not principal is under consideration.
The move is likley to affect more than five crore subscribers, who have invested in the retirement savings scheme. It has proposed that only 40 percent of the contributions made to EPF after April 1 will be tax free on withdrawal. This won't apply to those earning less than Rs 15,000 a month.
The total portfolio under the pension and provident fund scheme is estimated to be around Rs 6.5 lakh crore.