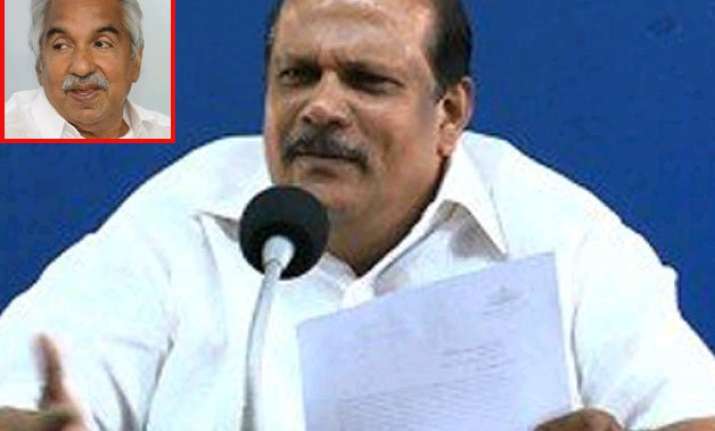 Thiruvananthapuram: Ending more than a week- long suspense, dissident Kerala Congress (M) Vice-Chairman P C George was removed from the post of government Chief Whip by Chief Minister Ommen Chandy who accepted the ruling UDF partner's demand after parleys to avert the action failed.
The decision to accept the demand of KC(M), led by Finance Minister K M Mani, was announced by Chandy after holding discussions with his senior cabinet colleagues P K Kunhalikutty and Ramesh Chennithala and George here tonight.
George has been barred from attending the UDF liaison committee meeting as the representative of KC-M, which is the third largest partner of the ruling front with nine MLAs.
George later said he would remain with UDF. With KC-M supremo Mani, against whom George had been making embarrassing public statements, sticking to his demand, UDF leaders had no other option but to remove him from the Chief Whip post.
Talking to reporters after the meeting, Chandy said they failed to reach a meeting point and accepting the KC-M demand was the natural course to be followed as per 'coalition principles'.
Though the KC-M made the demand for George's removal about 10 days ago after he attacked Mani, facing bribery charges, over presentation of the budget by him, Chandy and other UDF leaders had attempted to bring about a truce between the two warring KC(M) leaders.
The ruling Front was keen not to precipitate the crisis by annoying George, particularly when civic polls are due later this year and assembly polls next year. Also, the Front could not afford to lose the support of even a single MLA.
UDF has a wafer-thin majority of 73 in the 140-member assembly with one seat vacant while CPI-M led LDF has 65 members. KC(B), which recently quit UDF, has one member.
The biennial Rajya Sabha polls in the state for three seats is scheduled on April 20.
As per the present strength, UDF could win two seats and opposition LDF one. Hence, it is important for the ruling Front not to disturb the present legislative arithmetic.
Asked whether George would continue to be part of UDF, Chandy said he had not been expelled from KC-M and it was for him to decide whether to continue in UDF.
Emerging from talks, George said he would accept the decision of UDF leaders and would continue to be part of the ruling coalition.
However, he strongly criticised Mani with whom he had fallen apart beyond reconciliation.
Mani stuck to his demand for George's removal from the chief whip post while George wanted KC-M to oust him so that he could revive his faction Kerala Congress (Secular) and continue to be a part of UDF as a separate partner, without attracting the anti-defection law.
But Mani was not in favour of keeping George in the Front as a separate party and wanted him to continue in the party by accepting a 'small punishment.'
KC-M was irked with George after he made several public remarks against Mani after he presented the budget on March 13 in the assembly amidst protest by LDF opposition.
Eight KC(M) legislators headed by Mani sought the removal of George from the chief whip post and demanded that he be barred from attending the liaison committee meeting of UDF.
The Vigilance and Anti-Corruption Bureau had recently registered a case against Mani in connection with the charge that he had accepted bribe from bar owners to renew liquor licences. George had stated that Mani should have resigned when the controversy erupted last November.