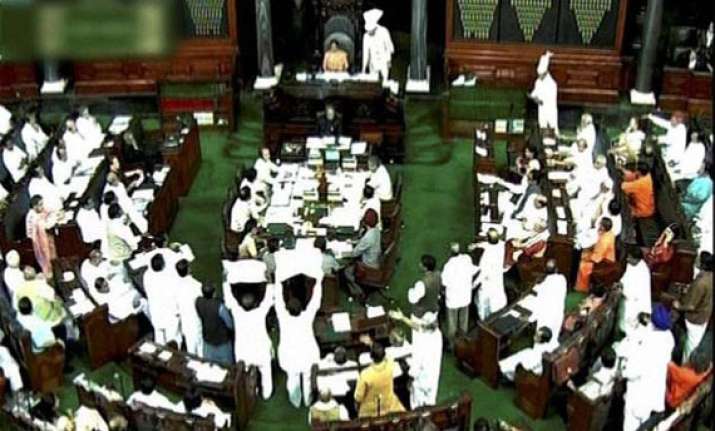 New Delhi, Dec 6 : FDI in multi-brand retail today got the approval of the Lok Sabha as the Opposition motion seeking immediate withdrawal of the decision was rejected convincingly as BSP and SP walked out.
218 members voted in favour of the Opposition motion, while 253 members voted against it in the House where 471 members participated in the voting. The total strength of the House is 545.
The House also rejected the motion seeking amendment to the rules notified by the Reserve Bank under Foreign Exchange Management Act (FEMA) to enable FDI in multi-brand retail.
While 254 membersw voted in favour of the government, 224 members  were against.
Members of SP and BSP, with respective strength of 22 and 21, did not participate in the voting as they walked out alleging that interests of farmers and small retailers had been ignored.
The victory of the government after two days of heated debate was immediately hailed by Prime Minister Manmohan Singh and UPA chairperson Sonia Gandhi.
"FDI policy that we have put in place has the approval of this House (Lok Sabha)," said Singh, who is a member of Rajya Sabha but was present during the voting in the Lower House.
This was after a gap of many years that an executive decision of the government was put to vote in Parliament.
Earlier, replying to the discussion, Commerce Minister Anand Sharma dismissed the Opposition charge that the move would hurt small traders and farmers and that the government has rushed the decision.
He said the decision was not taken overnight and deliberations were held with chief ministers and other stake holders like association of farmers, consumer organisations and representatives of the food processing industry.
Leader of the Opposition Sushma Swaraj, who had moved the motion, maintained that majority of the House was against FDI in retail which was reflected in speeches of leaders of different political parties.
Swaraj said going by speeches in the debate on FDI, leaders of various parties which extended support in favour of the motion and against bringing FDI in multi-brand retail had 282 votes and those against it had 224 votes.
She said 22 leaders of 18 parties participated in the debate on FDI in multi-brand retail of which 14 spoke in its favour.
"I wanted the thought to be converted into vote that will be engraved in the history of Lok Sabha," Swaraj said, lamenting that this did not seem happening as some parties like SP and BSP which vehemently opposed the entry of FDI in retail had already walked out to avoid voting on the issue.
While seeking to reach out to wider opposition camp, she said it was not a vote on communal or secular lines but about the interest of the country.
After the voting, she told reporters that the government "won technically but lost on moral grounds."
The Commerce Minister said out of 21 states which responded to the Centre's communication on the issue, 11 supported in writing the move to open multi-brand retail.
Only 7 states opposed the proposal, while few sought clarifications, he said, adding that he personally met Punjab Chief Minister Prakash Singh Badal, Odisha Chief Minister Naveen Patnaik and West Bengal Chief Minister Mamata Banerjee.
In the backdrop of the federal structure of the country, he said, the Centre decided to leave the final decision on states whether to allow foreign investment in retail.
"No one can take away the right of an elected government to take decision", he said adding the decision was taken after discussions with the stakeholders.
"Consensus means general agreement and not unanimity," he said.
Participating in the debate, BJP leader Murli Manohar Joshi said his party was for "retail democracy and not retail dictatorship" and warned that people would not tolerate such an action.
Noting that retail giant Walmart had indulged in corrupt practices in several countries, Joshi said the government need not promote their interest but work in the interest of farmers and workers.
He rejected government's contention that foreign investment in retail would benefit farmers and increase competition.
He told the UPA, "apni gardan aap katwayen, magar desh ki gardan mat katwayen" (if you want to sacrifice your head for the sake of FDI in retail, please do, but do not sacrifice the interest of the nation for it).
Deepender Hooda (Cong) sought to embarrass BJP by referring to Purti Group, a company run by BJP President
Nitin Gadkari
, and said it was into multi-brand retail in a big way. In this context, he questioned why BJP was opposing this government decision.
Hooda, son of Haryana Chief Minister, said he wanted to assure foreign companies like McDonald's and Pepsico and if they were not getting respect in BJP-ruled Gujarat, they could come to Haryana.
He quoted the letter of Sukhbir Singh Badal, Deputy Chief Minister of Punjab, to Anand Sharma in 2011 that supported FDI in multi-brand retail.
He also read out from the letter written by the Akali Dal leader who is now opposing the proposal.
Earlier, apprehending a walkout by BSP, SP, the Opposition had warned these parties and also DMK that history will not pardon them if they sided with the government on the issue despite opposing it during the nationwide protest.
However, after walking out of the Lok Sabha, SP chief Mulayam Singh Yadav told reporters that "We walked out because the government has neglected the interest of farmers and small traders."
Asked why SP lawmakers walked out instead of voting against the motion, he said "this was the party's decision. The party has decided to stage walk out rejecting the move."
When it was pointed out that SP's decision has helped the government, he said "whatever the party has decided we do that exactly."
Expressing concern over the fate of farmers and small traders after FDI in retail, Yadav said the "interest of five crore small traders and 20 crore farmers and their families were sacrificed by the government's decision. That is why we have walked out."  
Among those who made a scathing attack on the government over the issue were members of the JD(U), CPI(M), BJD, Shiv Sena and AIADMK.
UPA ally NCP, which is a major partner in Maharashtra government, suggested it was not completely on board regarding implementation of FDI in retail, with its leader Praful Patel saying the state's Coordination Committee will assess its impact as it did not want small retailers to be hurt.
But at the same time, he rejected the Opposition contention that FDI was bad for the country.
Participating in the discussion on the issue, JD(U) leader Sharad Yadav said "history will not pardon you (Congress) if you implement this measure. I am telling this also to those who were with us in the 'Bharat Bandh'," called by the entire Opposition, including Left parties and the BJP in September to protest allowing of FDI in multi-brand retail.
Looking at SP chief Mulayam Singh Yadav sitting in the front row, he recalled that SP, BSP and DMK were "with us" during the nationwide protest and said that 85 per cent of the people would be adversely affected by the move.
"Sit over it again, have more consultations and roll back the measure. If you do not roll back, then we will roll back your government..... You can win this battle but not the war," Yadav said.
Parliamentary Affairs Minister Kamal Nath was seen sitting with the SP chief for some time during the discussion while Minister of State in the PMO V Narayanasamy was seen chatting with BSP leader Dara Singh Chauhan.
Castigating Union Minister Kapil Sibal for saying that "allowing FDI in retail would check inflation", the JD(U) leader said Sibal had "x-rayed his government by saying that the decline in GDP, industrial production or exports will be checked only through FDI as if this is the only medicine for all ills, as if it is the only way to retrieve the situation."
Observing that successive governments had given slogans like 'Garibi Hatao', 'India Shining' or 'Aam Aadmi', Yadav said, "Not one of them favoured the farmers or the working class. Even our freedom did not provide much succour to the downtrodden."
Warning of more agitations against FDI in retail, senior CPI(M) leader Basudeb Acharia said while the Left has been consistent in opposing the move, the government has been "inconsistent throughout".
"The Prime Minister, as the Leader of Opposition in Rajya Sabha earlier, had written a letter opposing it. Congress leader P R Dasmunsi had termed it 'anti-national' in this very House. We have been consistent, you are not," he said.
Reminding that the government had said FDI in the pharma sector would bring international expertise and capital, he said the situation today was that "MNCs have taken over Indian companies and the prices of essential medicines have shot up."
He said the government had also brought in seed company Monsanto, saying agriculture productivity would improve. "But maximum suicides by farmers have taken place where it went and in ten years, Monsanto earned Rs 35,000-40,000 crore in profits."
Quoting American studies against Walmart and such other multi-brand retail chains, the CPI(M) leader said there would be wide variations in what the farmers would get for their produce and the price it is sold to the customer "as has happened in several countries including the US".
He asked whether FDI in retail would increase employment, bring in new technology or improve exports and asserted, "We will take this battle to the streets. Wherever you try to implement this plan, we will protest. We will not allow Walmart to come in."
Praful Patel said while BJP was opposing FDI in multi-brand retail, the NDA government led by it had furthered the liberalisation policy initiated by the Congress government in the 1990s.
He said claims that FDI would result in an "earthquake" were unfounded and urged opposition against creating a sense of fear among people.
The Union Minister said today malls were loaded with foreign goods and both Indian and imported commodities were running the markets.
Attacking Shiv Sena, NCP's political rival in Maharashtra, Patel said malls selling foreign goods were being constructed by "your leaders," leading to a war of words between members of the two parties.
Terming economy as a two-way traffic system, he said while there are protests over inviting foreign investment in the country, nobody was objecting to Indian companies acquiring entities in other countries.
He claimed that due to presence of foreign chains like McDonald and KFC, Indian chains like Bikanerwala and Haldiram have improved their retail infrastructure.
Bhratruhari Mahtab (BJD) said his party had opposed the move in 2004, in last December and even today. "It will not help our agriculture and we have apprehensions that it will give rise to social unrest," he said.
He rejected government's argument that FDI in retail would create jobs and bring in additional resources.
Strongly opposing FDI in multi-brand retail, senior CPI leader Gurudas Dasgupta today said there is pressure from multi-nationals and the Prime Minister is even ready to sacrifice the government to implement the proposal.
Dasgupta said that allowing FDI in multi-brand retail would result in a scenario of "giants (MNCs) versus pygmies (domestic retailers)" and there cannot be growth.
He said the country's economic situation is "very grim" but Parliament is kept in the dark by the government with regard to its strategy to tackle the crisis.
Here is the minute-to-minute live reporting of today's debate and voting in Lok Sabha:
6:54 pm: After procedural wrangles, motion put to vote. Speaker Meira Kumar announces that the BJP leader's motion is negatived by 253 votes to 218.
6 pm:  Leader of Opposition Sushma Swaraj replying to the debate said, all the parties, except four main parties including Congress opposed FDI in retail. It shows an overwhelming majority of people are not in favour of FDI in retail, she said.  
5:50 pm: Samajwadi MPs led by Mulayam Singh Yadav troop out of the House making it easier for the govt to win the vote.
5:41 pm: In a pre-planned manner, 21 BSP MPs  staged a walkout of the House protesting govt's reply over FDI, but paving the way for the govt to score an easy win during voting.
5:02 pm: Commerce Minister Anand Sharma intervenesdin the debate to disclose that the Centre had discussed with state governments on FDI issue. "I personally met Parkash Singh Badal, Naveen Patnaik, Mamata Banerjee and Nitish Kumar on the issue. We wrote to all chief ministers. 21 states responded. 14 chief ministers responded in writing.  But, three states Punjab, Gujarat and Himachal Pradesh did not give in writing that they opposed FDI in retail", said Sharma.
"We discussed with 12 farmer organisation and six big consumer groups and all of them were in favour of FDI", said Sharma.
Even landlocked states like Assam, Uttarakhand and Jammu and Kashmir wanted FDI  in retail there, as they had fruits and vegetable produces but difficult road links, said Sharma.
Sharma reminded that it was during NDA regime that McDonalds and KFC were allowed in India. Despite FDI, indigenous retailers like Haldiram has spread its network abroad and Bikanervala's turnover went up to Rs 1,000 cr, Sharma said.
4:43 pm: Congress's Deepender Hooda, the Haryana chief minister's son, forcefully defended the government's decisuion saying that already Indian multi-brand retailers like Big Bazaar, Reliance and Birlas and even the BJP President's Purti Group were present. He pointed out that P R Dasmunshi had in 2002 opposed 100 per cent FDI in retail move by the then NDA government describing it as anti-national.
Hooda said, the opposition particularly the BJP and the Left had a history of opposing new decisions. "They opposed Nehruji's Bhakhra dam saying the power generated from water will destroy agriculture in Punjab and Haryana. They opposed Rajivi's computerisation process saying it would render millions unemployed.  They opposed the Dunkel proposals and the Delhi Metro saying the auto drivers will be rendered unemployed. They also opposed the Nuclear Deal.", said Hooda.
The people should chose between the politics of obstruction and the politics of development, Hooda said, with Sonia Gandhi nodding her head.
4:22 pm: Janata Dal-Secular chief former PM H D Devegowda strongly opposes FDI in retail, saying it will go against the interest of farmers.
4:08 pm: RJD supremo Lalu Prasad said, the entire brouhaha over FDI in retail is part of BJP's gameplan for 2014 elections. "They want to mislead the country by making people wear blinkers", says Lalu.
"How dare the BJP members speak about Gandhi and Swadeshi? Most of their MPs try to book AC coupes in Railway", quipped Lalu, as Sonia Gandhi laughed. "Their leaders travel in Mercedes, their probable candidate for Pm (Modi) invites Japanese and foreign investors with open hands, and here they speak of Swadeshi", says Lalu.
For Sushma Swaraj, Lalu said: "Didi k main didi maanta hoon". Lalu reads out a cheap couplet : Muhabbat mein tum par aansoo na bahaata, Agar aapke Benares me paan khaane na aata".
34 per cent of farmers have stopped farming nowadays because of poor prices, if FDI comes 100 pc farmers will take to farming, declares Lalu. And, I support FDI in retail 100 per cent, he concludes.
3:35 pm:  BJP leader Murli Manohar Joshi asked if Dasmunshi's remark about FDI in retail was anti-national, then how come it is now in the national interest.  I agree, our idea of bringing in FDI was wrong, we have rectified our mistake, he says.
2:48: Complete chaos and the House adjourned for a brief while when RJD supremo Lalu Prasad stands up and some BJP members make a remark at him. Lalu on his part replies with a similar remark, and then angrily says the remark was not unparliamentary and he was not going to withdraw.  The Deputy Speaker Karia Munda briefly adjourns the House.
2:43 pm: Shiromani Akali Dal member Harsmirat Kaur Badal  lashed out at FDI in retail saying the livelihood of millions of people will be at stake. The potato king of Jalandhar has alleged that multi-nationals are not picking up potato produce, she said. Farmers will be at the mercy of multinationals, she adds.
2:26 pm: CPI leader Gurudas Dasgupta  asked whether the govt was so fragile that the PM was ready to sacrifice his govt over the FDI issue. Is it that important? he asks.  Dasgupta said the economy was in a bad condition, with low growth rate, low IIP growth rate and the kharif production may not reach its target.
This is not the Congress of pre-Indepence, says Dasgupta. We were in the heart of Congress, he went on to say. Anand Sharma rose to remind him that the CPI was formed in 1920 after breaking off from the Congress and the CPI had opposed the 1942 Quit India movement.  To this, Dasgupta quipped: History does not end in 1920 and begin in 1942. History is a continuous process, he says.
Obama, says Dasgupta, is a supporter of small retailers in the USA, but lobbies for Walmart in India, that's the paradox of politics, says Dasgupta.  Congress members howl, when Dasgupta mentions Congres leader P R Dasmunshi's remark several years ago that FDI in retail was anti-national.
1:47 pm: AIADMK leader M Thambidurai mentions her party supremo Jayalalithaa's name several times in his speech and says, FDI will benefit only foreign corporates and will not help farmers.
1:33 pm:  NCP leader Praful Patel supports FDI in retail saying entry of Coca Cola, McDonald's and KFC into India has led to Indian retailers like Haldiram and Bikanervala changing their appearances. India which was surviving on PL480 wheat from the US in the Sixties,  exported Rs 1,27,000 cr worth agricultural produce in 2011-12, Patel pointed out.
Do you want our software exports to stop, by opposing FDI in retail?, Patel asks the opposition. "Go to Mumbai, Pune, and Bangalore and ask the young people whether they are in favour of FDI or not", says Patel.
Let me tell you, the East India Company is now owned by an Indian, says the NCP leader.
1:07 pm:  Biju Janata Dal Mp Bhartruhari Mahatab says, the FDi decision will sound the deathknell for local retailers. It will lead to social unrest, he says.  The nation will be flooded with cheaper goods from China and Bangladesh, says Mahtab.
12:30 pm: JD-U chief Sharad Yadav in full form. says, "this government has divided the nation into two camps. The nation will face chaos and disaster. It will cripple our economy", says Yadav.
Yadav says, Congress may win this fight, but the real battle will be fought outside, and the Congress will have to face the consequences. "We will win the final battle. We are concerned about 85 per cent of the population", says Yadav.
Pointing towards DMK and SP, Yadav says, these two parties had joined the Bharat Bandh called by NDA against FDI in retail, but are now supporting the government.
Yadav raises questions: 1) Was Jaipal Reddy not made the scapegoat of market forces?  2) why are diesel car owners getting fuel subsidy?
"We don't want to topple this government, but we want the rollback of FDI", says Yadav.
12 noon:  Debate on FDI in multi-brand retail resumes in Lok Sabha