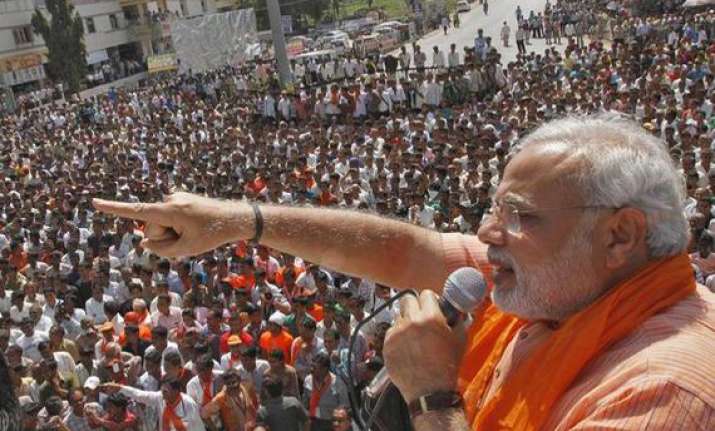 Mandla (MP): Gujarat Chief Minister and BJP's PM candidate Narendra Modi today accused Congress of ignoring the serious issue of increasing prices.
Addressing an election rally in Mandla of Madhya Pradesh, Modi said that Rahul Gandhi did not care to say anything on price-rise when he visited MP recently.
"Do they come to answer you? Those who don't believe in democracy they and their leaders can't serve people.Shahzada came to MP. He met women but did he say a thing on rising prices? He said in 2009 that we will reduce prices in 100 days. People voted for them in 2009, they formed a government but what happened, did prices fall? No, prices only increased," said Modi.
"Election time is on but no Congress leader is willing to answer or even talk about rising price. Nothing has been left. They have looted the people. Should they not answer about corruption? Such irresponsible thought process will only ruin this nation and that is why we have to fulfil the dream of making a Congress Mukt Bharat," added Modi.
Asking people to vote for BJP in large numbers,  Modi said,"No other Government can match the work done by all the BJP governments for tribal welfare. Shivraj ji has made a place in hearts of tribals.Today every member of tribal community thinks Shivraj ji is a member of our family. No Congress leader can match this.See the work done by Atal ji and Shivraj ji. our Govt in Delhi will also be devoted to welfare of tribal communities." 
Following is the live reporting of Modi's rallies: