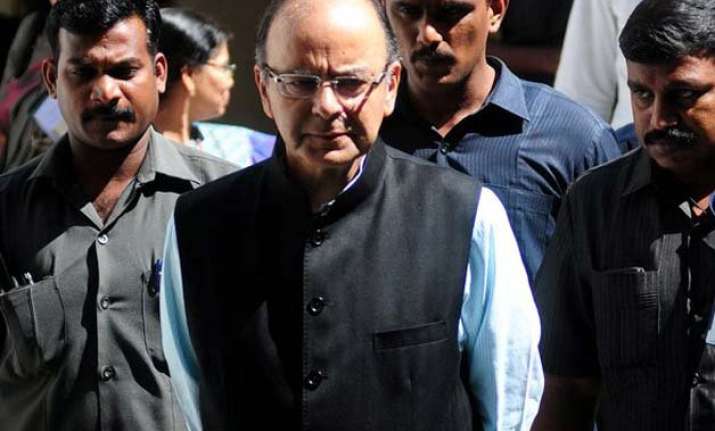 New Delhi: Finance Minister Arun Jaitley today led a strong counter in the Rajya Sabha against the Congress' jibes on the black money window announced as part of the budget, saying it was not an amnesty scheme and carried a heavy penalty.
Speaking in the House today, Jaitley attacked the Congress over party Vice President's accusations of the government having introduced a 'Fair & Lovely' scheme that could help black money holders turn their money into white.
"Nobody who has black money will be jailed under Modi's 'Fair and Lovely' scheme," Rahul Gandhi had said in Parliament. "All those who have black money can make it white under this scheme," he said.
Jaitley countered the allegations reminding the Congress of an income disclosure scheme announced by the then Congress government in 1997 with P Chidambaram as Finance Minister.
"When you make comments on steps we are taking from foreign black money to domestic black money to filing prosecutions and assessments, please honestly compare your own track records in this regard," Jaitley said.
"In 1997, you said, please make declaration of undisclosed income by just paying 30 per cent tax and nothing more, and declare it at the 1987 value. Most declarants were children and women. The immediate effect was that there was no buoyancy in tax collection next year," Jaitley said alleging that the proposal had led the honest tax payer to the courts.
 Jaitley further reminded the house and opposition leaders that the government's four-month compliance window was no amnesty scheme since it carried a heavy penalty.
"We have told people if any part of your income has not been assessed, pay 30 per cent tax on it and 50 per cent penalty. It is not an amnesty scheme it has a penalty," the minister said.
Reacting to the charges made by Gandhi on various issues, including the government not passing the benefit of reduction in crude oil prices to consumers, Jaitley took a dig at him, saying the "most dangerous calculation is the one done at the back of an envelope".
He told the Congress benches in the Upper House, of which Rahul is not a member, that "somebody has convinced your leader (Rahul) to do all accounting on the back of an envelope".
Jaitley also sought to draw the opposition's support for bills pending in the parliament, urging them to shun disruptive tactics to stall legislative work.
Jaitley spoke on a host of other issues as well including the JNU row, saying that though he wasn't opposed to any individual, free speech could not be allowed to advocate breaking up the country.    
(With agencies)