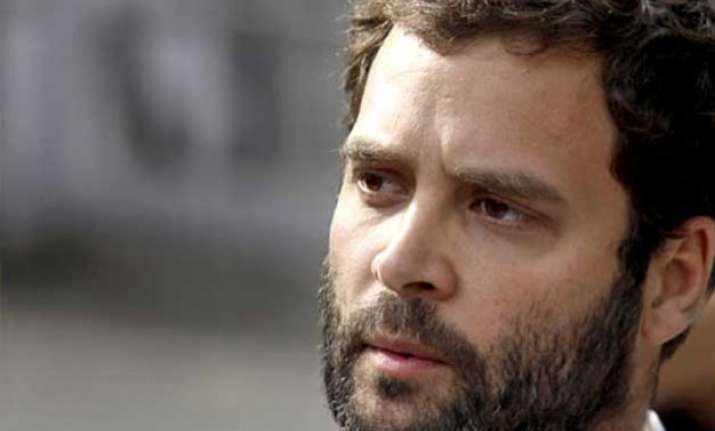 New Delhi: The Congress, led by Sonia Gandhi as party president for the last 17 years, is right now at the cusp of a major tectonic shift. The doting mother is unwilling to carry on further because of health-related issues and wants to transfer the pivotal role to her son soon, but not without pre-conditions.
Sonia Gandhi, according to party sources, wants her son to take the old leadership along with him in bringing back the party into national reckoning, after being thrown in the dumps with a measly 44 MPs in the 2014 Lok Sabha elections, in the face of Modi tsunami.
But, the son, according to party sources, wants to shed old baggage and start with his own set of advisers, and work on his US political concept of allowing new grassroots leaders to emerge through elected primaries, a la the GOP and US Democratic Party.
The experiment failed in the 2014 LS polls, when candidates chosen through Congress 'primaries' faced humiliating defeats at the hustings. But Rahul, adamant as he is, has decided to carry forward his experiment with vigour, sidelining old guards.
To put things in perspective, let's go through the long-winding history of India's oldest political party, which will be 130 years in December, 2015. The pomp will be missing this time due to a string of electoral debacles, but nevertheless a quick go-through is called for.
Congress, historically, has been a party that consisted of leaders from different hues of ideologies – leftist, rightist, left-of-centre, right-of-centre etc.
 
Owing to different ideologies, differences over issues of national significance were very much common with  different leaders suggesting different solutions in tune with their personal ideologies.
 
Mahatma Gandhi had differences with Subhash Chandra Bose, Dr Rajendra Prasad had differences with Jawaharlal Nehru, Nehru had differences with Sardar Vallabhbhai Patel and so on, but all these differences were based on sound ideological footings.
 
Today Congress is once again facing a big tussle between two of its top functionaries, party president Sonia Gandhi and vice-president Rahul Gandhi, who have reportedly developed serious differences over how to run the grand old party.
 
Unlike in the past, these differences are not based over ideological preferences, but over styles. The differences seem to be primarily because of personal preferences over who to trust and who to discard.
 
Since the President and vice-president are mother and son in relation, there is an emotional chord that binds them together. The mother wants to see the son taking up the mantle of the party that is basically a family fiefdom but she is yet to get the confidence that he can do justice to the responsibility that comes with the hot seat.
 
Unfortunately for Rahul Gandhi, her mother is not far away from reality. Today he is desperate to be anointed as the party president but he should seriously ponder over whether he has done justice to his present role of vice-president?
 
And interestingly, it's the same Rahul who had said that her mother once reminded him of how "power is nothing, but poison".
 
"Last night each one of you congratulated me. My mother came to my room and she sat with me and she cried... because she understands that power so many people seek is actually a poison,"Rahul Gandhi had informed party workers in Jaipur in his maiden address after taking over as Congress vice-president in 2013, amidst loud cheering and claps.
 
The son, obviously, is now desperate to taste the poison.
 
Rahul was anointed as Congress vice-president in January 2013 and since then, he has been the party's face in all elections that the party contested.
 
After Rahul was promoted to vice-president's position, Congress fought nine important state Assembly elections in 2013 - Tripura, Meghalaya, Nagaland, Karnataka, Delhi, Rajasthan, Madhya Pradesh, Chhattisgarh and Mizoram.
 
Out of these nine, the Congress could win only three states – Nagaland, Mizoram and Karnataka. Except for Karnataka, the other two states do not count much in terms of size and representation in Lok Sabha. Even in Karnataka, Congress owed its victory more to anti-incumbency against the then BJP govt and not to the leadership or personal charisma of Rahul Gandhi.
 
In 2014, the Congress once again contested nine state Assembly elections under his leadership – Andhra Pradesh, Telangana, Arunachal Pradesh, Odisha, Sikkim, Maharashtra, Haryana, Jammu and Kashmir and Jharkhand.
 
Once again, out of these nine, Congress could manage to win only 1 state – Arunachal Pradesh.
 
It means, that out of 18 Assembly elections that the Congress contested under Rahul Gandhi's leadership in 2013 and 2014, the party could win only four elections with Karnataka being the only big state.
 
In 2014 general elections, he was the undeclared PM candidate of the Congress and the 130-year-old party delivered its worst ever performance this time. The party, today, does not have the numbers to claim the Leader of Opposition status in Lok Sabha, for which a minimum of 54 members are required, and the party was ten short.
 
If this is the performance report, how can Rahul even aspire to be promoted to the top seat?
 
But since this is the Congress and Rahul is the scion and heir apparent of the Gandhi family, he appears to be dissatisfied over his own mother delaying his coronation.
 
An emotional mother has perhaps given up and, if the media reports are to be believed, Rahul, in all probability, will be handed over the leadership baton in March.
 
But the question is – can a person, who failed to deliver as vice-president, be able to change party's fortunes as the Party president?
 
Agreed, nothing can be predicted in politics, but leadership trait is something that gets noticed from day one.
 
And what is the track record of Rahul Gandhi? He complains of not being given a free hand in selecting leaders to lead his party in states but is it not a fact that whenever he was given this opportunity, he failed miserably in picking the right person?
 
Take the example of Delhi. Rahul picked Ajay Maken, head of Congress' campaign committee, to become the party's face in the recent Assembly elections and Maken was the most likely CM candidate.
 
 Maken was selected to lead the party primarily because he was part of Rahul's inner circle but the decision overlooked the claims of state unit chief Arvinder Singh Lovely who was more articulate and exuded confidence to energise the moribund party workers and cadre. And what was the outcome? Not only the party failed to open its account, Maken himself lost the election badly from his Sadar Bazar constituency. He stood third and forfeited his security deposit.
 
Rahul  had promised to introduce primaries in the party the way it is in the US. It was something which was truly revolutionary and had the potential to change the political discourse in India, had it been implemented in letter and spirit.
 
But Rahul killed his own baby when he asked the 'primary' Vadodara candidate to back out in favour of his trusted lieutenant Madhusudan Mistry to take on Narendra Modi in 2014 Lok Sabha elections. And Mistry would prefer to forget the humiliation he faced in Vadodara.
 
Clearly, Rahul wants complete control over the party but he is not willing to understand that the Congress today needs people who are truly connected to grassroots. He has created a coterie which largely consists of Harvard and Cambridge educated people like Kanishka Singh. The problem is that, these advisors are also deciding the grassroot level strategy of the party, which is not their territory.  The question is - do they understand the ground realities of Indian electorate? Have they ever endured the heat and dust of rural India, that is the real Bharat?
 
Should Rahul not learn from Narendra Modi who has also got a large bunch of management gurus offering him advice on almost everything? Modi listens to these advisors on policy matters but still relies on RSS workers for managing things on the ground.
 
Rahul himself raised  a question mark over his leadership ability when he publicly  showed disrespect to his own Prime Minister  Manmohan Singh by tearing off the ordinance that was drafted in consultation with his mother. The ordinance related to exempting politicians from the Supreme Court order barring convicts from contesting elections. The then PM, who was out of the country, returned, headed a Cabinet meeting, and the ordinance was quickly withdrawn.
 
Rahul wants to get rid of some 'old guards' who, according to him, have advised his mother not to give him a free hand in making the desired changes in the organization. And there is some truth in that. But If Sonia Gandhi has resisted his wish, then it's not without reason.
 
Congress general secretary Digvijay Singh, considered to be part of Rahul's own coterie,  agrees that the mother and son are not always on the same page because of a generational difference. And he, like Rahul,  blames the old guards for influencing the mother against the son.
 
"Both of them are from different generations. Obviously every generation has a mind set. Sonia is very democratic. She holds consultations with senior leaders. And they then have an opportunity to influence her," said Digvijay.
 
"Some people believe they will lose the clout they enjoy today if party workers are empowered in local bodies, PCCs and elections (within) are held democratically. Leaders who are powerful in Delhi but not at the local level feel threatened," Singh added.
 
Then he has this tendency of indulging in the disappearing acts quite often. He was not there when Manmohan Singh was being given farewell by the UPA government. He was not there to defend the party after losses in various states.
 
The way he has taken leave during the Budget session of Parliament, in the name of 'self-introspection' over recent events, has baffled even his own coterie.
 
Even his hard core supporter Digvijay Singh has found the timing of Rahul's leave for self-introspection not right.
 
Sonia's coterie may consist of 50+ leaders who should rightly hand over the baton to the younger generation, given the fact that around 65 percent of population of India today consists of people below 35 years of age. But they are all battle-hardened politicians, who have delivered in the past, while Rahul's preferred ones are almost novices who are yet to prove themselves. This is the dilemma that Sonia is facing before handing over the crown to Rahul.
 
By seeking to be anointed as party president at the earliest, Rahul also wants to settle the leadership issue once and ever. Every time, the party loses an election, a section of Congress workers can be seen shouting slogans like " Priyanka lao, Congress bachao". This happened the day the Delhi assembly poll results were announced on February 10. Obviously, it's an open show of lack of confidence in Rahul's leadership.
 
It appears to be an open power struggle that is going within the Congress, with a section rooting for Rahul and another section opting for his sister, though the latter has clarified several times that she was more interested in looking after her family.  
 
Fortunately for Rahul, Sonia, like any mother, has a soft corner for the son and therefore he faces no challenge from his sibling.
 
The Congress party today needs a leader who can fight back to regain foothold, by taking party workers and cadre in these difficult times. The track record of Rahul suggests that he loathes the idea of taking responsibility for failures although he does not mind taking the credit for victories which did not belong to him, like in Karnataka.
 
Today, for all his failures, Rahul has the excuse of not getting a free hand in organizational matters but what excuse will he offer if he is made the party president?
 
Ask any grassroot Congress worker and he will tell you that, instead of relying too much on his foreign educated advisors, Rahul needs to first connect with the workers and get first-hand account of what really ails  the 130-year old party. Mere change in designation is not going to solve his problems.